Over the past couple of weeks of this National Adoption Month, I've shared the deeper heart of Why We Are Adopting and hopefully made clear my understanding that Adoption is not Charity, It's War!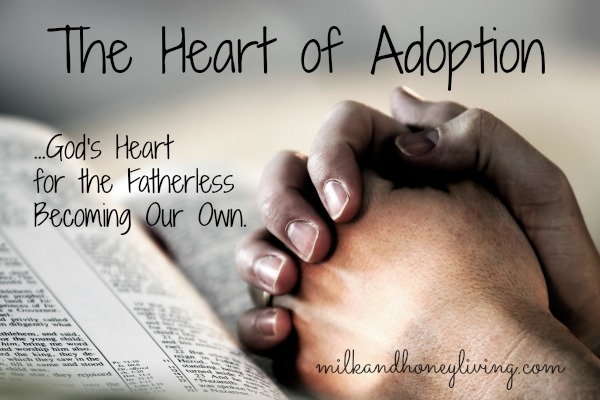 Right now our church is doing a series called The Gospel Effect and the idea is that if we truly accept the Gospel, the Good News of Jesus Christ, then it should have an effect on every aspect of our life. How we communicate, extend mercy, work, give of our resources…everything! Not to mention, this past weekend our church launched this year's Advent Conspiracy season and this year's initiative is called, Justice for the Most Vulnerable!
For us, pursuing adoption is just one effect of the Gospel and just one way to hopefully alleviate some fraction of injustice.
Today, I want to disarm and nip a huge argument in the bud…
If I believe that Adoption is a response to the Gospel, shouldn't every believer adopt?
No, not every person is necessarily called to adopt, meaning performing transactions that make a child legally your own. However, EVERY believer is called to take up the cause of the orphan and widow. In response to James 1:27, I once heard that caring for the "widow and orphan" really encompasses "young, old, and everything in between." In His Word, the Lord repeats over and over His explicit concern for the oppressed – the fatherless, the widow, the poor, the sick, the disenfranchised. We are ALL called to be loving people that care and respond to the needs in the world around us. Every story looks different. People are called to marriage or singleness and different areas of giving or serving. Regardless of our circumstances, we are to:
Do nothing out of selfish ambition or vain conceit. Rather, in humility value others above yourselves, not looking to your own interests but each of you to the interests of the others. In your relationships with one another, have the same mindset as Christ Jesus: Who, being in very nature God, did not consider equality with God something to be used to his own advantage; rather, he made himself nothing by taking the very nature of a servant,being made in human likeness. And being found in appearance as a man, he humbled himself by becoming obedient to death—even death on a cross!
I love these verses because I struggle with them constantly. I am far too selfish far too often. Whose kidding who? More often than not, I am looking out for me. But they are a constant reminder that even though this is the case, it is not suppose to be. I am instead intended to value others more than myself, look to their interests, and humble my heart to become a more clear reflection of Christ's selfless, sacrificial love to whomever He puts in my path and wherever He leads.
There is indeed a Heavenly realm. There will be a day we're revived, given new bodies, and new life! That day is not now. Until then, there is and will be endless evil, hurt, brutality, sickness, loss, and loneliness. With these things, come endless needs to address and we have all been given different gifts, passions, and resources with which to address them!
But given the state of our world, Adoption is a HUGE area that needs addressing.
There are 147 million orphans worldwide, there are 400,000 children in the U.S. Foster Care system on any given day, and roughly 100,000 of those are waiting to be adopted. There are children born daily into addiction & poverty.
Everyone might not be called to adopt, but everyone is called to engage in the cause of the orphan and ask the Lord to transform our hearts to look more like His. And, as with most areas of love, service, and fighting for justice, I'd venture to guess that if more people were engaged in this war we just might see more people being called to adopt. 
This video was also shown during last week's sermon and is definitely worth your time!
(If you're having trouble viewing the video, click here)
~ Becca
Do you get the sense from people who have adopted that they think everyone should? Do you think everyone should? Or perhaps, no one? 
The following two tabs change content below.
I hope you enjoyed reading Milk & Honey Living! I always appreciate your comments and love to connect with readers. If you don't want to miss a post, be sure to subscribe via email or rss feed; or follow me on Facebook, Twitter, and Pinterest!