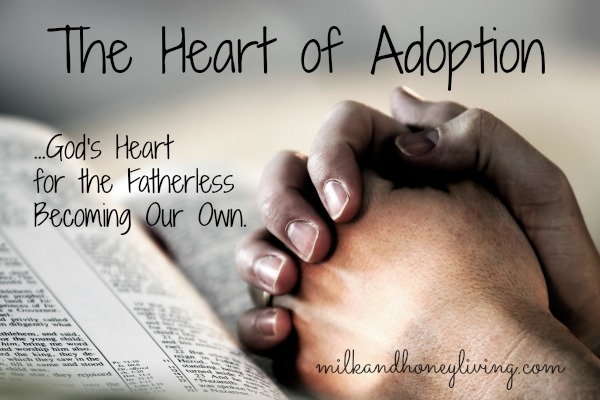 Why are we adopting?
I should probably add this to our FAQs because we've received it often.
It is apparent that many people who adopt do so because they are unmarried or unable to have biological children. Not so in our case; the miniature people we cart around that look EXACTLY like us (or at least Andy :) testify to that fact. We are obviously able to have biological children, so why would we take this route? Because…
The call of adoption for us goes far beyond and much deeper than simply wanting to have children and not being able to, or just wanting more children. We want to welcome, love, and train up a child that otherwise might tragically go unloved, or even more tragically, might not hear about the glorious adoption and inheritance we have all received through Jesus Christ.
Jesus IS The Heart of Adoption
My own adoption…
because Adoption is every believer's story.
For those who are led by the Spirit of God are the children of God. The Spirit you received does not make you slaves, so that you live in fear again; rather, the Spirit you received brought about your adoption to sonship. And by him we cry, "Abba, Father." The Spirit himself testifies with our spirit that we are God's children. Now if we are children, then we are heirs—heirs of God and co-heirs with Christ, if indeed we share in his sufferings in order that we may also share in his glory. – Romans 8:14-17
(I know that some people who read here are not Christ-followers. I'm sure sometimes what I share might sound strange, unfamiliar, or feel hard to understand, but I am so unbelievably happy you read and am always happy to engage. Please read on!)
In my humanity, I am a slave to sin and death; we all are. We are subject to the Father of lies, darkness, and flesh. However, when we admit that we are a sinner, confess, and ask Jesus to be our personal savior, we not only receive freedom from sin here on earth, but also a NEW family; a brother who valiantly conquered death and now stands before the throne of our Heavenly Father to vouch for our purified spotlessness.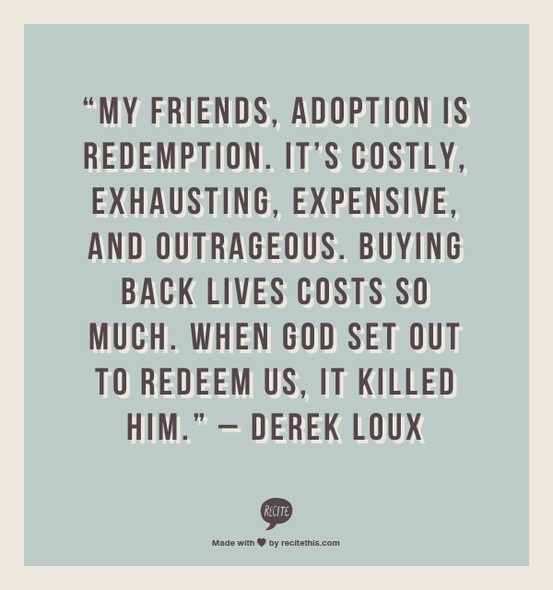 Again His word says,
In love He predestined us for adoption to sonship through Jesus Christ, in accordance with his pleasure and will— to the praise of his glorious grace, which he has freely given us in the One he loves. In him we have redemption through his blood, the forgiveness of sins, in accordance with the riches of God's grace that he lavished on us. Ephesians 1:5-7
There is a glorious Kingdom of Heaven. One day, all those who accept Jesus as Lord – every nation, tribe, and tongue – will live and worship our Father together! Andy and I want to boast loudly of our own adoption into spiritual unity as brothers and sisters of Christ and we pray that our home would reflect merely a glimpse of Heaven on earth.
I often sing the song Hosanna with my boys because the lyrics of the bridge hit me every time and remind of the sacrificial life I desire to live for my Savior…
"Take my heart and make it clean, Open up my eyes to your things unseen. Show me how to love like you have loved me! Break my heart for what breaks yours; everything I am for your kingdom's cause, as I move from Earth into Eternity."
My faith is not the church I attend or the prayer I say before eating. My faith is Jesus. Jesus is life. I pray that I would give everything I am for the Kingdom and Glory of the Lord.
And the Lord has broken our hearts not for the cause of adoption, but for HIS children that are "fatherless." He loves them desperately and they are subject to live a life of oppression – without a home of their own, without parents that fight for them, without a legacy or inheritance – if we do not move!
That is why we are adopting.
~ Becca
Do you view adoption in this light? What is your Heart of Adoption?
The following two tabs change content below.
I hope you enjoyed reading Milk & Honey Living! I always appreciate your comments and love to connect with readers. If you don't want to miss a post, be sure to subscribe via email or rss feed; or follow me on Facebook, Twitter, and Pinterest!