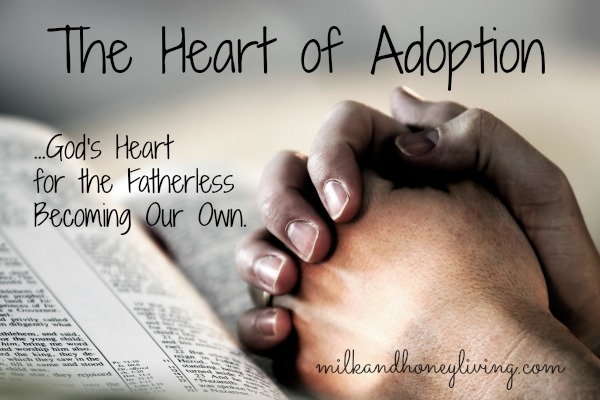 Last week I talked a little about how not every believer is necessarily called to adopt; but ALL of us are called to engage in the caring for the orphan and widow (and everything in between). So today, in wrapping up my series on the Heart of Adoption, I wanted to share 5 (of countless) ways to engage! 
Each one of these 5 suggestions could be expanded to a very long post of its own! There are so many resources that I love and know I am leaving off of this list, but these are just a few off the top of my head. I know that many people WANT to engage, but often don't know how or where to begin. I hope this offers a few new resources for you to look into! 
1.)    Sponsor a Child (or get behind the organizations that do)!
Sponsoring a child meets their most basic needs such as the food, clothing, and medical care that we take so for granted, as well as offers education and other services that provide them opportunities to better meet their potential. Many of these children (thankfully) are not orphaned, but there are specific searches that you can perform to intentionally find orphaned children in order to tangibly care for an orphan around the world. Two such organizations are:
They offer remarkable programs for individuals or families to sponsor specific children, but they also make it easy to give to their general fund for them to divvy up resources as they see fit. Often they know better than we of the most critical needs; as well as meeting emergency needs when disaster strikes and they hit the ground running (such as the current Typhoon response, which has obviously created and left orphans in its wake). This is also an awesome opportunity for those who might not be able to/want to commit to continual monthly giving, but prefer making one time gifts! 
If you cannot give financial resources, they also offer a large variety of ways to Get Involved, such as: assembling kits, volunteering at events, raising money for a run/walk, hosting sponsorship events, knitting clothing for children, and so many more. There are so many creative ways to use our time and unique gifting!
Also, different than sponsoring individual children or adoption, I love these organizations that again offer large scale services to whole communities and pay very close attention to the oppressed. A few more are definitely worth mentioning, especially coming up on the Holiday season and end of the year charitable giving, they provide lots of ways to reach out, such as:
Amazima Ministries – After reading Kisses from Katie, I trust her organization  is doing profound work in Uganda alongside families, children, and orphans working to stamp out immediate needs of hunger, disease, injury and illness, while offering the Truth of the Gospel and education!
2.) Support an Organization that participates in Adoption Support and Orphan Care
Therentless organizations that might fit this description, but here are a few amazing, faith-based organizations just  are couto scratch the surface. They might offer expertise in different areas, but the following provide phenomenal resources about foster care, adoption, international orphan care, financial resources for adoption grants and loans, orphan advocacy and more.
3.) Support those who are adopting
To be clear, this is 100% NOT a plea for us, it is just a legitimate way people can engage! You can support families you do or do not know! You can support them through donating to the organizations listed in #2, participating in their fundraising efforts, etc. I will say, we have personally experienced the blessing of families who have felt led to give to us and those have been tremendous gifts! Their generosity is ingrained in our child's story and part of the process. One such couple said, "We do not feel the call to adopt, but want to take part in the cause of adoption and look after the orphan. Giving to you guys helps us take part of that process."
4.) Advocate in the Foster Care System or Support Foster Families.
Foster Care in the United States is remarkably beautiful and broken. There are hundreds of thousands of children continuously in and out of the system. There are professionals and volunteers who work tirelessly to try to help, but often have to arduously jump through bureaucratic hoops and all too often burn out from their exertion. I'm sure that improvements could and should be made, but I am not sure of any alternative system that will be instituted or work better. As it stands, you could:
Otherwise, if you're not able to be directly involved in the Foster Care system, reach out to someone who is and SUPPORT A FOSTER FAMILY! They are financially compensated for a fraction of the money, time, and emotional energy they invest. Provide a meal; donate gently used clothes for the ages they foster; buy new clothes, diapers, gift cards (gas, grocery store, restaurants, entertainment, etc.) for them to use as they have need – be creative!
5.) Pray!
The one thing absolutely everyone can do and is called to do – regardless of time or financial resources – is to PRAY for all those in distress. You can pray for:
Current Orphans and Children in Foster Care – possibly homeless or waiting in orphanages around the world. Pray for their sweet hearts to be protected and redeemed regardless of circumstance.
Waiting adoptive families – that their children would come home soon.
Those children waiting to be sponsored on the above websites (anyone can go through, read their bios and pray – whether they are able to sponsor or not).
Legislature, laws, and lawmakers.
If you don't know what to pray, pray that! "Lord, I don't know what to pray for these children and families, but here is my time and my heart, please intercede on my behalf and guide me in how to pray and engage!"
Pray that all of our hearts would all look a little – actually, a lot – more like His, so that we can love and care for the orphan exactly as He desires, however that looks given each of our unique gifts and circumstances!
6.) *BONUS* GET YOUR HANDS DIRTY – Missions Work! 
Much of my extended family is involved with an orphanage in Mexico, specifically one Uncle, Aunt, and Cousin, but many have visited. In fact one of my cousins, her husband, and their family is at that orphanage as I type. This is an amazing way to not only serve, engage in the children's lives, offer labor and other services (she cuts everyone's hair while she's there); but is also a real life, hands on, unavoidable reminder of other people's circumstances.
In our plenty, we often forget others are living with little or nothing. Seeing it with your own eyes makes it tangible. personal. It is hard to not leave a changed person, more passionate about those lives that are entwined with your own! 
Do you have other suggestions or ways you've engaged in the Heart of Adoption? Comment below, I'd love to hear!
~ Becca
The following two tabs change content below.
I hope you enjoyed reading Milk & Honey Living! I always appreciate your comments and love to connect with readers. If you don't want to miss a post, be sure to subscribe via email or rss feed; or follow me on Facebook, Twitter, and Pinterest!