Well, if you've been following along, this past month I was honored to be invited by Amber over at Adventures in Mindful Living to join up with her Change 3 Challenge! It was a joy to get to know her better and follow along with her challenge updates as well as the other ladies who linked-up (you can also find her on Facebook, Pinterest, or Twitter)! If you were one who shared their challenges, read, encouraged and was encouraged along the way – Thanks for joining in this community! The challenge technically ends on Thursday/Friday; however, I have some other things I'm working on and writing, so I wanted to take a look back and share my final update today…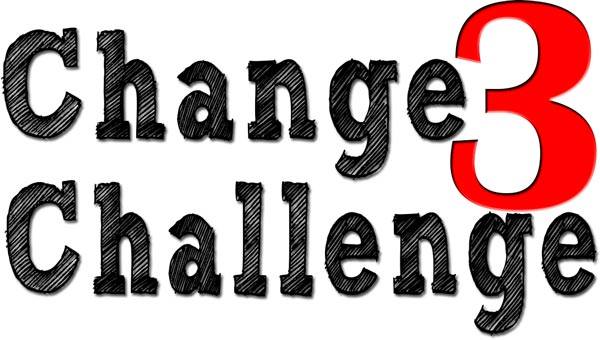 The intro and previous updates are below for those just tuning in:
Change 3 Challenge Intro – The Details!
My 3 Things – What I wanted to work on this past month
Week Two Update (with a peak into my closet :)
Week Three Update (& Girl's getaway)
Earn the Couch
Why was this the hardest? 
I know, I know: pack some water bottles and pick out my clothes, how is it that difficult? But after getting water bottles numerous times a day, handling clothes (clean, dirty, wet, dry, clothes, and PJ's) over and over, often it was the last thing I wanted to take an extra 10 minutes to think about when I didn't have to. The days that I did pack water bottles, the diaper bag, and picked out my clothes definitely went more smoothly. When will I learn :)
What did I learn? 
As you know, I also recognized that sometimes the difficulty accomplishing a simple task sometimes stemmed from a greater problem. It was pretty hard to find and select the clothes I wanted to wear when my closet looked like this, but having the goal in mind gave me a nudge in the right direction to tackle the larger issue at hand in order for a smaller goal to become more attainable. 
Taking the Blame & Moving On
Sometimes, I knew we weren't going anywhere and I didn't need to pack a bag for the next day, and sometimes I knew we were going somewhere, didn't take the time I should have, and ultimately paid the consequence…
However, this goal also shone light on the fact that on those mornings when we are running late and I am frazzled or barking at my kids, it was primarily my "fault" and therefore I seemed to be aware that I had the power to change this circumstance and chose not to; therefore, I handled it more gracefully. My self-talk would go something like this: "Becca, this could have been avoided, it is not their fault. Do the work that needs to be done now as swiftly as possible to get back on track and move on…Don't make this moment bigger than it is!" 
Reading 30 minutes before bed
This was definitely the easiest, I loved it. Enjoyed it. Cherished it – the words, the art, the lessons, and the alone time! The only times that this was an issue was when I needed the sleep over the reading, or I didn't have a book that I was super excited about reading.
What I realized is…
I am usually reading a few different books at a time; however, before bed, I need books that engage but don't overwhelm me. It seems that  if I read certain topics on parenting or adoption, they can be overstimulating and then when it is time to sleep I just lie there turning over thoughts in my head. (However, I also got into a really fun piece of fiction that kept me up WAY past my normal bed time). I suppose there is give and take, but the overall goal of reserving time to ingest new thoughts, ideas, and stories was accomplished.
God before Media
This should always be the main goal! To spend designated, QUALITY time with the Lord. Making it a priority and not just slipping it in when one has a couple minutes. There were some days I was itching to hop online, but refrained and then instead of wasting far too much time on social media I got lost in my time with God and spent extended periods reading or memorizing scripture, praying for myself, my husband, and kids; journaling, etc. The point being…
We have a lot more time to spend with God than we think, but because we don't slow down long enough to acknowledge it, we flit it away and then wonder why we can't seem to feel close to Him. 
This was by far the most rewarding this past month, spending quality time with God (almost) daily yields fruit – of His Spirit in me, in relationship with my husband, in patience and enjoyment of my children – fruit that sometimes we don't even realize we're craving or from which we're needing nourishment. His Word says He is Faithful, He will reveal Himself to those who earnestly seek him. And over and over, He upholds this promise to me when I come before Him with a pure heart genuinely seeking fellowship, rather than just putting in my time!
Change 3 Challenge Outcome? 
All-in-all, I'd say the challenge was a success and I'm really glad I took part. It is so easy to think about all the little changes we want to make but not take action. This was a cool perspective to have because even if I didn't "succeed" at every challenge every day, I was going about these three aspects of life more intentionally and with greater awareness. Which lead to noticing why they were easy or difficult and how they were affecting my life/mood, my family, or our home.
Thank you again for sharing in this challenge with me!
~ Becca
I'd love to hear your thoughts on my Change 3 Outcome or your own! What is the hardest goal for you to maintain? Is there specifically something that stands in your way of spending quality time with the Lord? 
The following two tabs change content below.
I hope you enjoyed reading Milk & Honey Living! I always appreciate your comments and love to connect with readers. If you don't want to miss a post, be sure to subscribe via email or rss feed; or follow me on Facebook, Twitter, and Pinterest!