Another eventful weekend has come and gone. We spent Friday night at the Teen Challenge Charity Banquet, which was an awesome night raising funds and celebrating the work this organization does for those battling addiction. If you know anyone struggling with addiction, please look into Teen Challenge; they have touched and blessed our family!
For those who haven't been following along, Welcome! This month, I am teaming up with Adventures in Mindful Living for our Change 3 Challenge. We are two weeks in and each week we are sharing our progress on the individual challenges we're tackling. I shared my three challenges at the start. Today I have some updates (and some unsightly photos of my closet :)
Earn the Couch
This one continues to foil me; primarily picking out my clothes because my closet is a disorganized black hole. I organize my closet every now and then, and it usually stays that way for a bit when I heap a little laundry on top of my dresser or half unpack from a weekend with family and suddenly it all goes downhill. And ends up looking like this…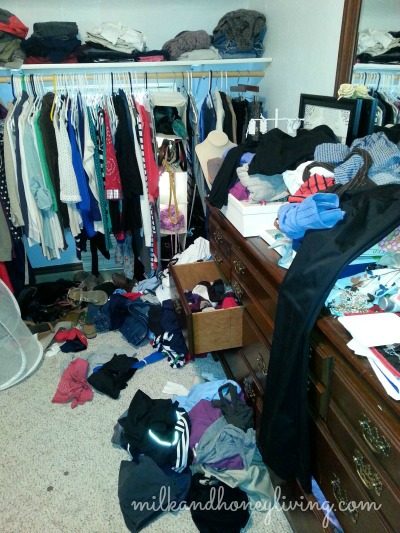 …And I can't find a thing. (Yes, this is highly embarrassing to reveal).
On the bright side, this challenge motivated me to take action yesterday afternoon and tackle a little closet organization so I could better see what I have and where it is! In about one hour, I totally cleared the top of my dresser, cleaned out an organized all my purses/bags, reorganized some drawers, and tidied my jewelry and shoes. Now it looks like this…
More to do, but much less embarrassing :) Remember, I sold Stella and Dot, hence the obscene amount of jewelry and the "fancy" display)
Reading 30 Minutes before bed:
Absolutely LOVE this. The only nights I didn't read were when we went to bed really late and sleep had to win out because I knew I would be awake *much* sooner than I'd like.
God before Media:
I'm going strong here but some days the time is still more effective than others. I always make sure I've read the Bible before opening the computer; however, I really want to concentrate more on my solitude time in prayer. Prayer powerfully impacts my relationship with God; it is NOT to be neglected. I pray throughout the day in spurts, as I wash dishes, with Max, etc. but I need to spend longer periods of time in focused prayer.
As for where I'm spending time reading, I am digging through Proverbs and working on my weekly Bible study in the book of Job.
Did you pick three ways to challenge yourself this month? How is your progress? 
The following two tabs change content below.
I hope you enjoyed reading Milk & Honey Living! I always appreciate your comments and love to connect with readers. If you don't want to miss a post, be sure to subscribe via email or rss feed; or follow me on Facebook, Twitter, and Pinterest!