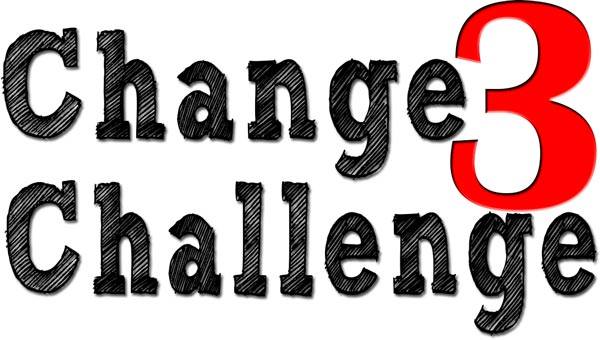 I am unbelievably excited for what I am joining in on this month! Amber from Adventures in Mindful Cooking is hosting a Change 3 Challenge and she has invited little 'ol me to team up and participate in this challenge alongside her and 4 other bloggers. The most amazing part is that when Amber got in touch with me I was contemplating  laying out a different but similar goal setting system. It was awesome timing and an amazing view of the Lord's hand at work in my blogging. Praise, God! It is going to be so much more fun to partner with her and challenge myself alongside friends.
What's even cooler? YOU can join me, too! Ah, How fun is that?
Are you curious to learn more?
Fabulous!
Here is the lay of the land!
What is The Change 3 Challenge?
Amber said:
The Change 3 Challenge is a call to look honestly at your life and find 3 things or habits you want to change. After you choose which 3 things to change, you make a plan on how you are going to do that. Then you announce it somewhere public (here in the comments, on our Facebook page, on your Facebook page, on your blog, etc.). This step makes you accountable (because honestly how many times do we say we are going to do something and then not really do it) and helps provide some incentive to carry through with your plan…This is a way to partner up with others and be more mindful in changing for the better and developing good habits.
In her Change 3 Challenge intro and description, Amber gives a more thorough overview of why she is taking this challenge and why she invited us along for the ride. So, I'll follow her lead but just give the basics of why I, personally, am taking it…
When?
October 1st through Novermber 1st – Yes, it starts tomorrow! And I will be posting an update every Monday throughout the month for you to follow along, hear of my progress, encourage or hold me accountable!
Why? 
I am doing this because when I think about the number of habits I'd like to change, things I'd like to work on or fine-tune, etc. It either feels so big that I bite off more than I can chew, ultimately spreading myself "a mile wide and an inch deep," or it becomes so overwhelming that I change nothing and slouch around feeling anxious and incompetent.
However, Lord knows that neither of these tendencies results in the Peace and Joy-filled life that He desires for his people! It is for ONE month. A brief but effective period of time to be intentional, start small, make a few changes, and keep tabs along the way!
What are my 3 things?
You'll have to check back tomorrow :)
Okay! This is the fun part…Why should you join along with us?
This does not need to be overwhelming. We ALL have things on our mind we like to work on improving! So, take a little time to think and pray about certain habits that could use refining and commit to changing those with me this month (or if there is just one habit that comes to mind, start there and don't worry about having to pick two more)!
We ALL need encouragement! We ALL need accountability! We ALL need fellowship! Sharing and doing this together is one way to make it bigger than ourselves and make it about working together in community to mature into the women God desires us to be.
How can you join us?
There are several ways!
Comment on this post or my Facebook page letting me know what your 3 things are and we will all work to help encourage you! You can also comment on any of the other co-hosts blogs/vlogs or any of their social media! We all want to see you succeed so this is a group effort!
If you are a blogger, Every Monday for the month of October Amber will use her Mindful Mommy Monday to host a link-up! You'll be able to link posts sharing updates on the struggles & success! (Learn the specifics by heading to the Change 3 Challenge page)
I am honored that Amber asked me to partner up. and I would love, love, love for you to join me! If you have ANY questions, please feel free to share in the comments or via email. Otherwise, I look forward to sharing my 3 tomorrow and hearing yours :)
~ Becca
The following two tabs change content below.
I hope you enjoyed reading Milk & Honey Living! I always appreciate your comments and love to connect with readers. If you don't want to miss a post, be sure to subscribe via email or rss feed; or follow me on Facebook, Twitter, and Pinterest!