Read Part One!
The 4 days leading up to the wedding were amazing. Yesterday, I was so focused on getting pictures up that I failed to adequately express just how much I love my family. My Aunts, Uncles, Cousins, Parents, and siblings are  fun-loving and HILARIOUS! I cannot even count the times over the weekend that I laughed until my side hurt; it was refreshing to the soul. There were salon appointments with my sisters, coffees, a day at the lake, last minute errands, rich conversations of faith, dinners, and did I mention laughing? Again, I wish there were more pictures that captured the time with those I love, but the day was a whirlwind; mere conversations in passing (while I tried to maintain sympathy for my dear husband wrangling our children while I was MIA. He made an excellent point, "trying to keep two kids in white pants and a 'straight jacket' quiet and clean is no easy task!" 
Without further ado, Welcome to the Wedding Day!
My day started with my boys, Starbucks, and a gorgeous morning walk by the lake. Just a few of my favorite things. I'm going out on a limb to say it was less stressful than Angie's morning – finishing up the all the corsages and boutonnieres (yes, almost EVERYTHING you will see, she made herself: table runners, centerpieces, bridal party purses and jewelry, wedding bulletins, party favors, even decorations for the Riviera's lack-luster bathrooms! She is a doer and she got it done!)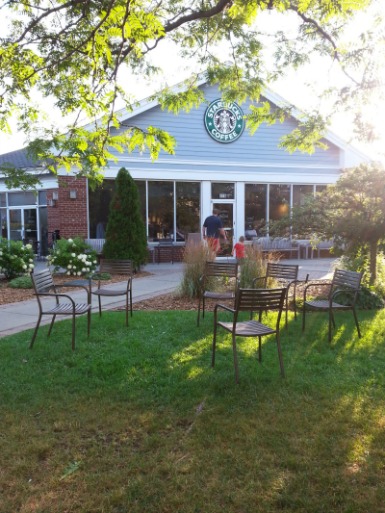 The expansive brown building behind Max is the Riviera, their reception hall. Which leads me to our first official morning bridesmaid duty. Sarah and I ditched our hubbies with the kids (at the hotel pool, haha) and met Ang, Mom, George, and his parents at the Riviera to decorate the reception hall at 10 am. Our hair appointments were at 11; so we had ONE hour to get everything in its place! Move, Move, Move…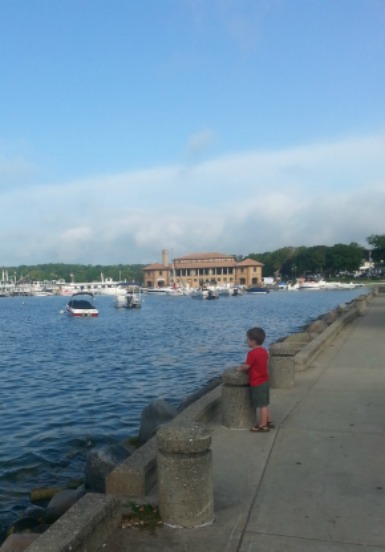 However, it was also a GORGEOUS labor day weekend, so Lake Geneva was overflowing with travelers and it took a little longer than expected to find parking. Alas, we made it to the Salon a little late, but I had Mimosas in hand and the bride settled in for some "leisurely" beautifying, girl-time!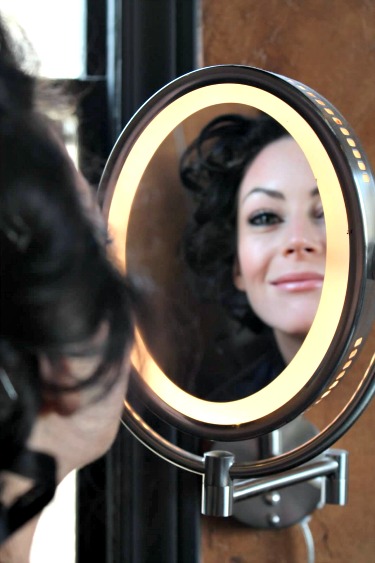 With both of my beautiful sisters!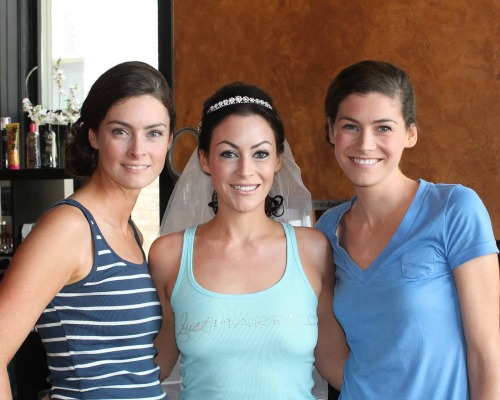 Bride's Hair and Make-up. Check! Now, off to get her in that dress :)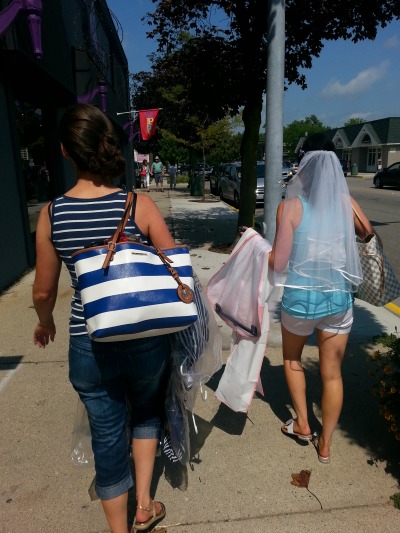 Did I mention parking was a bit of a bear? When she finally found a spot, she just ditched the car and got to the salon. Chalk this ticket up to wedding day expenses. I reality, event the ticket was pretty cheap parking!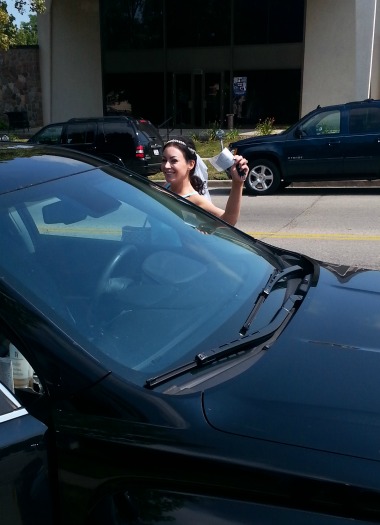 Angie and George exchanged cards and gifts before heading to the church. She received all of her wedding day jewelry – the gorgeous sapphires – and she was obviously excited about the perfume that she really wanted to buy but couldn't find anywhere. Somehow George managed!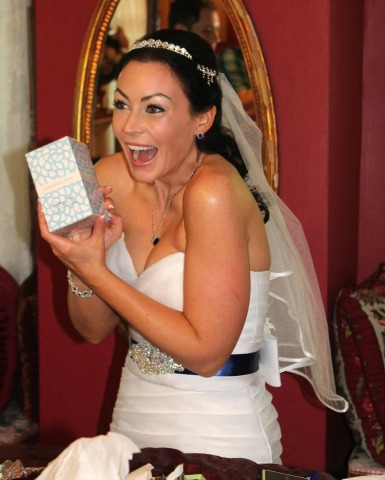 Hidden inside their attire…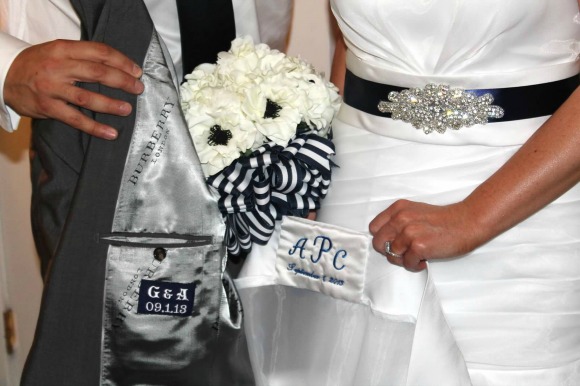 The drive to the church was a blast consisting of Angie finishing up the slide show and an emergency espresso stop! "It's for the bride!" We made it to the church and started in straight away with family photos. It was VERY hot outside, so we had a whole lot of people congregated in the teeny-tiny church, which kept the energy, excitement, and temperature high. Here is Angie with two of her three nephews, the handsome little ring-bearers (these two hammed it up and loved every minute)!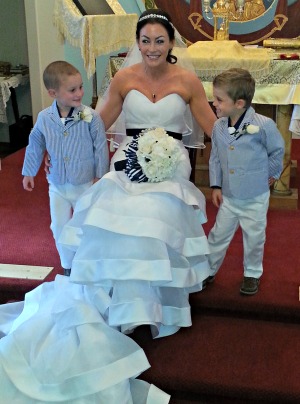 Angie's side…We'll see how the professional shots turn out; the moment one nephew stopped crying another one started! So it goes…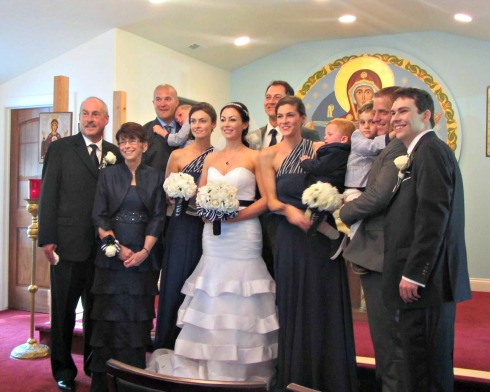 My brand-new brother-in-law!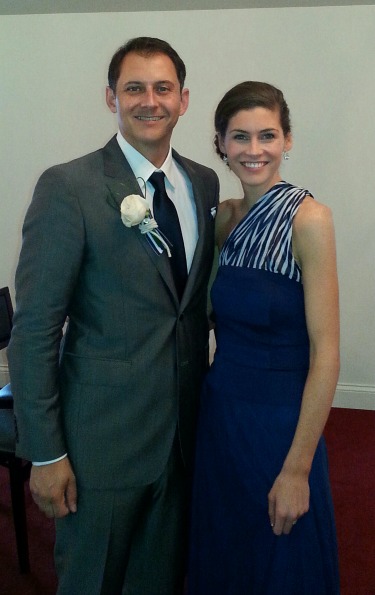 Three out of four flower girls!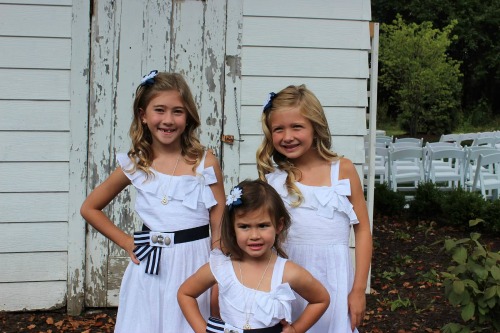 Let's get this show on the road!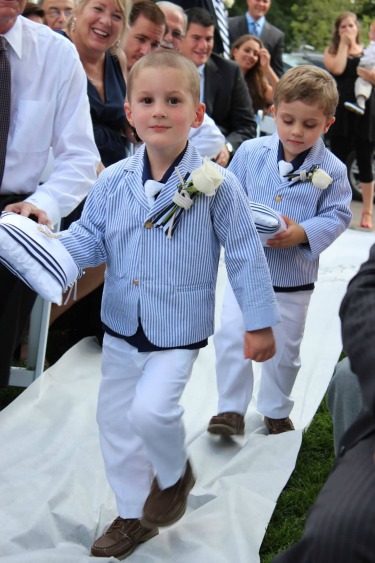 My sweet Max, taking his job seriously – and a job well-done!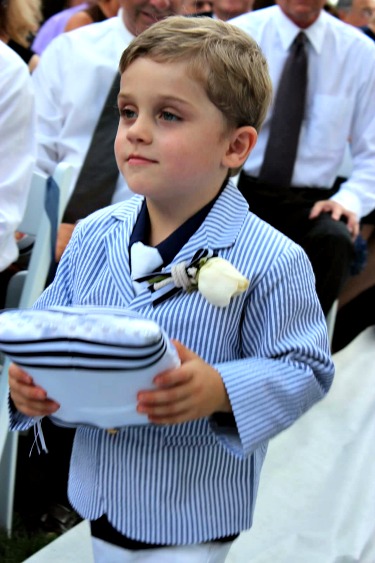 Here comes the Bride!
During a Greek Orthodox ceremony the couple is crowned with two crowns that are tied to one another to symbolize their unity. Then, they are led on a walk three times around the altar representing the journey they are beginning and will go on as husband and wife.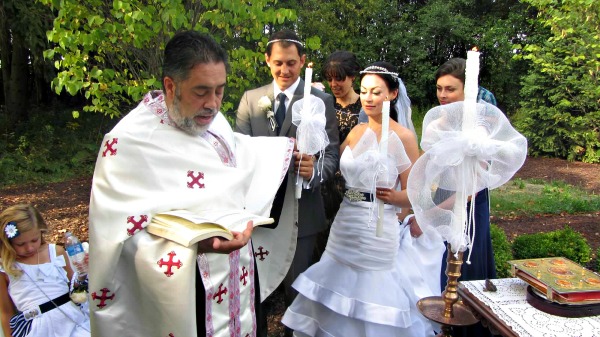 Just Married!!!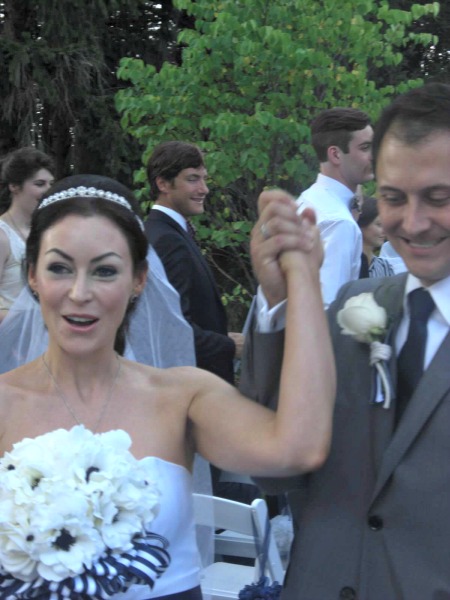 After the ceremony, the couple greeted guests in a receiving line, while I could briefly help Andy and the boys once again found their way to the Donkey fence :) Cal is partial to mama; so he'd be fine until I was anywhere in proximity. Can't say I mind, look at that face!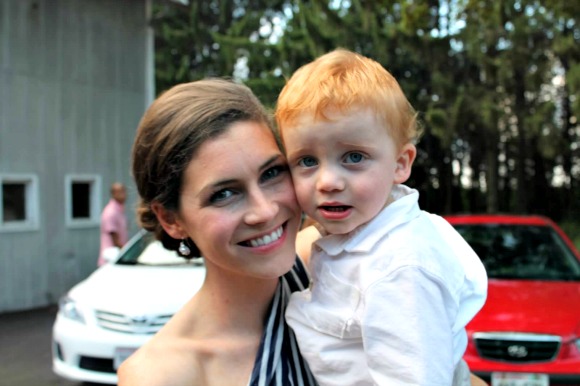 Our 'best' family picture from the day (although we got a couple stellar shots in the photo booth later on)!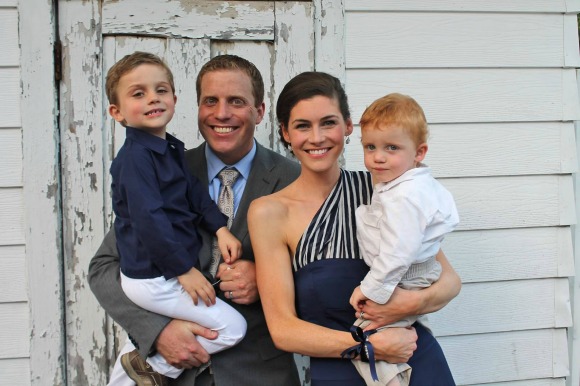 Phew! After compiling the entire wedding day this post was ridiculously long.  I thought I'd give it room to breath and divide it into two different posts. So, that means I know you'll be looking forward to my final installment tomorrow …
The following two tabs change content below.
I hope you enjoyed reading Milk & Honey Living! I always appreciate your comments and love to connect with readers. If you don't want to miss a post, be sure to subscribe via email or rss feed; or follow me on Facebook, Twitter, and Pinterest!