It has been a months since I've shared what I've been reading. For those hopping over from Modern Mrs. Darcy's Quick Lit, here's why; with the new year came the beautiful gift of our new son via adoption! I think the last books I shared were my favorites from 2014 and rightly so, because it took a pretty good chunk of time before I got back into the reading swing of things.
While this says, Quick Lit April…consider it Quick Lit: January – April 2015!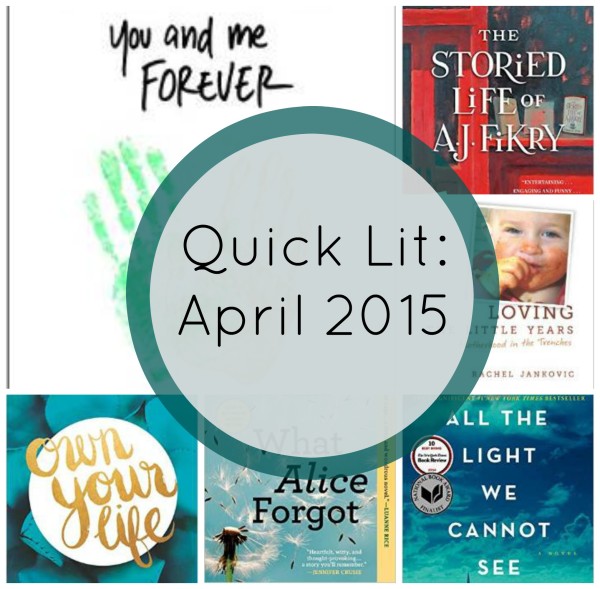 Loving the Little Years by Rachel Jankovic
This was the most recent book I read, and quite possibly my favorite among these. Its been on my list for a long time, but when a friend handed it to me last week and said she loved it, it got bumped to the top. It is a mere 100 pages and I gobbled it up in one sitting. The subtitle is "Motherhood in the Trenches," and at the time of this writing she had 5 kids, 5 and under (with twins), so in the trenches she is/was (she's now pregnant with #7)! I automatically felt I could really relate and during this time when I can use all the inspiration and encouragement I can get, this book was both! She basically just says, "All this work? Yeah, that's the point; these people aren't a burden, they're the purpose! Do it and do it well for the Glory of God!" When my friend handed the book over, she said it was a wonderful reminder for her to avoid the self-pity pitfalls and I completely agree. The chapters are short, straightforward, and completely unpretentious. I underlined great lines, gleaned some ideas and wisdom, and will definitely refer back to it!
Own Your Life by Sally Clarkson
Sally offers such maternal insight and I would absolutely love to curl up with her in some comfy chairs, with a cup of tea and our Bibles for hours of conversation.  I really enjoy Sally's writing, in fact, Desperate (her book with co-author Sarah Mae) as one of my favorites from last year. Once again she offered an inspiring read, with sound wisdom from a veteran/mentor mother about taking ownership of, well, your life. There are chapters on all different aspects of life, what God's design is for a woman/mother's role, and encouragement to fulfill that role well. Having read a few of her books already, I have to admit that some of it felt a bit familiar. That said, if you haven't read any of her books, it would be a perfectly fine place to start, but if I had to choose, I'd recommend Desperate and the Ministry of Motherhood. Oh, and if you have any interest in homeschooling, actually just the desire to inspire your kids on the path of their education, Educating the Wholehearted Child is fantastic!
All the Light We Cannot See by Anthony Doerr
Okay, from the moment I saw this and heard all the rave reviews, I couldn't wait to get my hands on it (and conveniently enough "Santa" brought it for me :) I love reading anything about World War II era and generation, fiction or nonfiction (Unbroken is one of my all-time favorite books). Unfortunately, I picked it up at a time that I was just not able to focus well and it took me forever to get into it (there are reviews everywhere, so I won't give the details) However, I think that has much more to do with me and my circumstances – having just adopted, adjusting to life at home with 4 kids, 2 infants, no sleep and very few spare moments – and therefore cannot be held against the book. Once I got into it, I flew to the end! The writing is gorgeous and left me totally satisfied with the story and characters. Seriously, I'm a little disappointed I read this when I did because I think it could have been a new favorite, but I was just too distracted (and therefore can truly not give an accurate review).
What Alice Forgot by Liane Moriarty
I grabbed this off the "Too Hot too Miss" shelf at the library and was pumped because its been pretty popular. I've read mixed reviews (the two most prominent being "I loved it" or "I couldn't stand it, how could her family not tell her more?"), so I was eager to form my opinion. The book is about a 39 year old woman who falls, bumps her head, and wakes up having forgotten the last 10 years of her life. She wakes up thinking she's 29, happily married and expecting her first child, but finds out instead that she is now an almost 40, mother of three, who is getting divorced. The book is a journey through her memories of her younger self as she tries to piece together how she is gotten to where she is now. My opinion? I liked it. It was a quick, engaging read. Good story and actually made me think quite a bit about my own actions, memories, who I was, who I am now, and how we reconcile those differences.
You and Me Forever by Francis & Lisa Chan
As a Christ-follower, this is an awesome reminder that we are not made for here and now, but rather we are made for Eternity.  The point being that we are blessed by our spouses (and should be a blessing to them), but that (according to scripture) we will not be married in Heaven. If you are familiar with these teachings, nothing in this book will necessarily rock your understanding, but its a great reminder (which I know I need as often as possible) of how we should prioritize our marriage, parenting, resources, time, etc. in view of God's purpose for our lives and how He desires we use our lives to glorify Him. And, if used properly, our marriages should actually be a great partnership in advancing Kingdom purposes. Other things always tend to build up and threaten to crowd out Jesus, this is like a neon sign stopping you in your tracks, pointing in the right direction, and encouraging a more fully committed walk with Christ.
The Storied Life of A.J. Fickry by Gabrielle Zevin
I really liked it. I only read three pieces of fiction over the last couple months, and this fit snugly in the middle. Not nearly as refined as All the Light We Cannot See, but a bit more raw and heady than What Alice Forgot. It is about a 30-something, bookstore owner who is receding into a life of redundancy and despair after recently losing his wife, when he becomes the least-likely foster care/adoptive parent.
The Creative Family by Amanda Blake Soule
I've followed Soule Mama for a while, really, I just love the photography of their family and homestead. I'd wanted to read her book, but didn't want to buy it, so stumbling upon it at the library was perfect (granted, it was on sitting on the couch and therefore is now covered in something that someone was drinking at some point, so we might be buying it anyway. Which isn't all bad, because there were some pretty great ideas)! It is definitely a reference book. I skimmed through it quickly, reading headers and then went back through to gather some great ideas for artwork, free and creative play, and all around motivation to lead a creative life alongside my kids.
All in all, quite a few good ones!
What have you been reading?
The following two tabs change content below.
I hope you enjoyed reading Milk & Honey Living! I always appreciate your comments and love to connect with readers. If you don't want to miss a post, be sure to subscribe via email or rss feed; or follow me on Facebook, Twitter, and Pinterest!