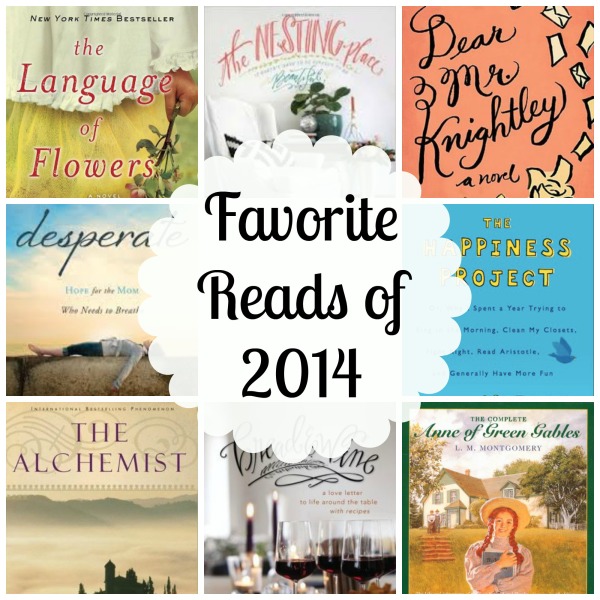 I didn't keep good track of the books I read this past year. I read some (apparently forgettable) books from the library, some on my Kindle, and skimmed or got half-way through an armful of others (what I consider my most annoying reading habit). The few I've selected here were my favorites that stand out in my mind despite my poor book keeping. This past year was divided into odd segments of excitement and sorrow (which I'm working on writing) and often these titles were associated with a given period of that time.
NON-FICTION
A Million Little Ways: Uncover the Art You Were Made to Live by Emily P. Freeman
I loved this and reviewed it in my February Twitterature post. I highly recommend taking the time to bite into and chew on these lovely truths, whether your passion be banking or baking, writing or singing, we were all created to be and live art.
Bread & Wine: A Love Letter to Life Around the Table by Shauna Niequist
I was behind the times on this one. I read rave reviews in 2013, but just got around to reading it during this holiday season. Shauna open and honest, sharing relate-able stories that I wanted to pass on to so many friends enduring the same pain, but she continually comes back around to how we live life alongside one another (regardless of circumstance) and how food (and Jesus) should always be at the center.
The Nesting Place: It Doesn't Have to be Perfect to be Beautiful by Myquillyn Smith
Given the many joys, heartbreaks, and silver linings of this past year, I spent a lot of time sitting around staring at my home and desiring beauty. Many a hot June afternoon, when the boys were asleep and all I could do was sit…again, I wandered outside with my perspiring glass of juice and lingered over these perfectly imperfect pages. It incorporates sound wisdom and a dose of reality on what we should actually expect from the space inside our walls (while also serving as a lovely coffee table book to flip through as a good reminder any 'ol time).
Desperate: Hope for the Weary Mom Who Needs to Breathe by Sally Clarkson and Sarah Mae
I started this last year and then got distracted, but this year, it spoke clearly to me during my first trimester. I love Sally Clarkson (and already pre-ordered her new book coming out in January); she gives such sound wisdom and is the motherly mentor for whom so many of us young mothers are yearning. The book moves between Sarah Mae (a young mother reaching up from the trenches of early motherhood who offers antidotes, fears, and failures, to which practically anyone can relate) and Sally, offering her veteran experience, gentle reminders, and encouragement. It really did serve as a breath for one who often needs to step back and breathe.
The Happiness Project by Gretchin Rubin
Again, I read this while on bed rest and it was "just what the Dr. ordered," if you will. It was enlightening to think about happiness in tangible ways that we make ourselves more or less happy. Rubin takes an intellectual approach to the topic, while sharing her experiences.  It got me to thinking deeply about my own happiness and whether or not I choose it (or simple things I can do to make myself more happy), as well as those around me – their happiness, how I can contribute to it, etc.
FICTION:
The Alchemist by Paulo Coelho
I wrote a brief review in March. This one is a quick read, but sticks with you! A book worth reading and re-reading.
Now, before I go on, I have to say it does not escape my attention that three of my four favorite fiction reads this year are about foster care or adoption (I also read and enjoyed The Orphan Train). Especially in light of our pending adoption, it is a topic that I find fascinating.
The Language of Flowers by Vanessa Diffenbaugh
When I think back to the books I read this year, this was one of the most raw, heart-breaking, and redemptive. You can read a more full description and review here, but it gives voice to the often voiceless experience of kids who age out of foster care (this probably being more redemptive than many of these kids really experience).
Dear Mr. Knightly by Katherine Reay
In this stage of frequent, long nursing sessions, I snatched up a couple easy reads when they went on sale for Kindle. I plowed through this one (as well and Raey's novel, Lizzy & Jane). It is again about a girl aging out of foster care and trying to acknowledge who she actually is instead of hiding behind the secure world within her books.
Anne of Green Gables by L.M. Montgomery
If you haven't read Anne of Green Gables (especially if you have young children), it is a laugh-out-loud must read and then a re-read. Anne is so charmingly lovable in all of her idiosyncrasies and your heart breaks for her past but delights in her spirit. I was reading this when my Dad passed away and finished it up in the NICU with our new red-headed baby girl.
What were your favorites from this past year? Please share, I'd love to add some recommended books to my "To-Read in 2015" list; I have high hopes! 
I'm sharing this post over at Modern Mrs. Darcy, hop over if you're looking for more favorites!
The following two tabs change content below.
I hope you enjoyed reading Milk & Honey Living! I always appreciate your comments and love to connect with readers. If you don't want to miss a post, be sure to subscribe via email or rss feed; or follow me on Facebook, Twitter, and Pinterest!