Making books easily accessible is vitally important to developing a child's interest in actually reading them! I've found that one way to offer constant access and appeal is by creating a seasonal book basket. Not necessarily, Winter – Spring – Summer – Fall, but Seasons, Topics, Holidays, etc.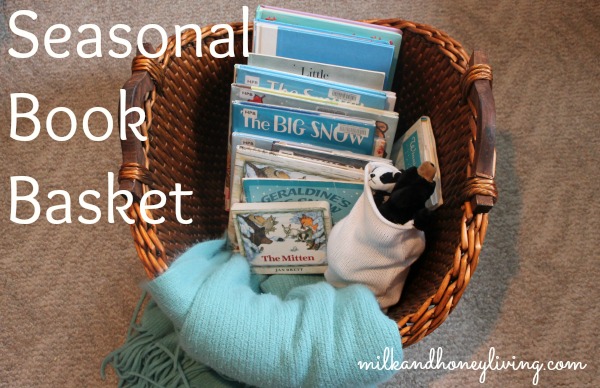 …and placing it in a cozy and inviting read nook:
As reading together is one of my great joys, it is important to keep things fresh by switching out the books every 2-4 weeks, depending on how quickly we're switching topics. First, I ransack our bookshelves for topical selections (For Winter: Polar Bears, Snow, etc.) and then I supplement with library books that I either find on the shelves or request online.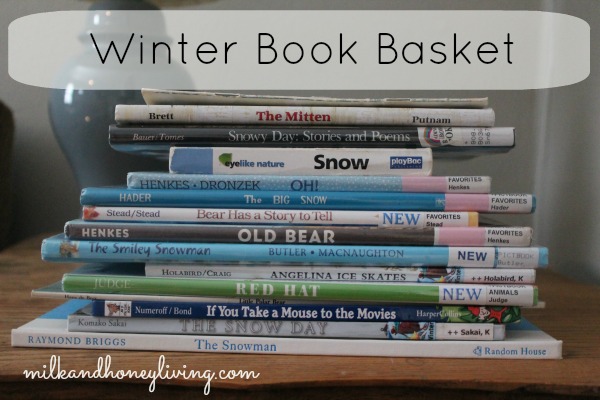 Most of these were from the Library. Many books are enjoyable and cute for a couple reads, but I don't feel the need to own them. And then there are some that are beautiful, fun, and have been or will be enjoyed for generations. As for books we loved in our Winter basket go-round:
Books we own (in the order I'd buy them):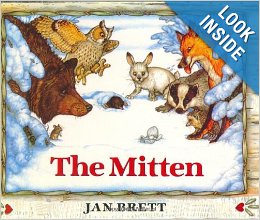 We received this one as a gift (along with a kitted mitten and finger puppets for every animal! One of the best.gift.ever!), but I am in love with pretty much all of Jan Brett's children's literature. The illustrations are so intricate, offering tons to look at and talk about on every page. Keep in mind the board book contains vastly different/omitted text from its paperback/hardcover counterpart!
I found The Snowman at a garage sale and when I flipped through it, I felt such a sense of familiarity and warmth. Then, it dawned on me that I watched (and adored) the video when I was young. I instantly ordered The Snowman on DVD for the boys and they have loved this magical tale just the same! The book has no words, so takes some effort by the reader; I recommend just buying and enjoying the movie.
Books I'd love in our Home Library (in the order I'd buy them):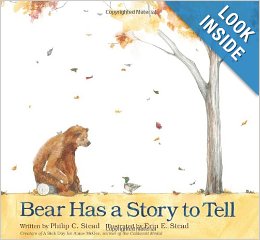 Gorgeous writing and illustrations of a kind, sweet, helpful, thoughtful, old bear who puts everyone before himself; a good friend wanting to tell a story and waiting patiently for his audience to listen.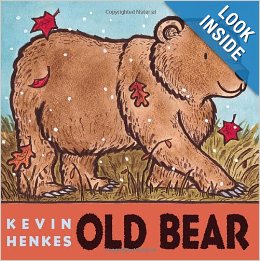 Another dear, old bear (great characters for winter stories), dreaming elaborate dreams in hibernation of when he was a cub bounding through the different seasons (I especially love when he dreams it is raining blueberries).
Honorable Mention to check out from the Library: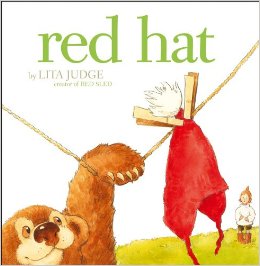 Red Hat does not have many words, but darling illustrations and fun-loving animals who run away with a hat. This must be elaborated and embellished with sound effects by the reader. My boys laughed their little heads off and asked for it over and over again. A darling, funny story, but without much text or character development, I wouldn't make the investment.
I switched out our winter selection for Valentine's (but I'll skip sharing) and next up is St. Patrick's Day!
What are your favorite Children's Winter Books?
~ Becca
This post contains my affiliate links.
For a list of parties I link-up with, click here!
The following two tabs change content below.
I hope you enjoyed reading Milk & Honey Living! I always appreciate your comments and love to connect with readers. If you don't want to miss a post, be sure to subscribe via email or rss feed; or follow me on Facebook, Twitter, and Pinterest!