Comprehension Level and Reading Level are two entirely different things.
Last week, I was at Barnes & Noble looking through the children's section and came across The Giving Tree by Shel Silverstein. We absolutely love this book – who doesn't? It's a classic! – but I was a little shocked that it was labeled for children "6 & up." We've been reading this story since my oldest was 2, he's been able to sit through and enjoy it since then. Granted, his comprehension of the story, the character development, the emotion, etc. has grown but the fact remains that he's been able to understand and enjoy the language and story long before the age of 6.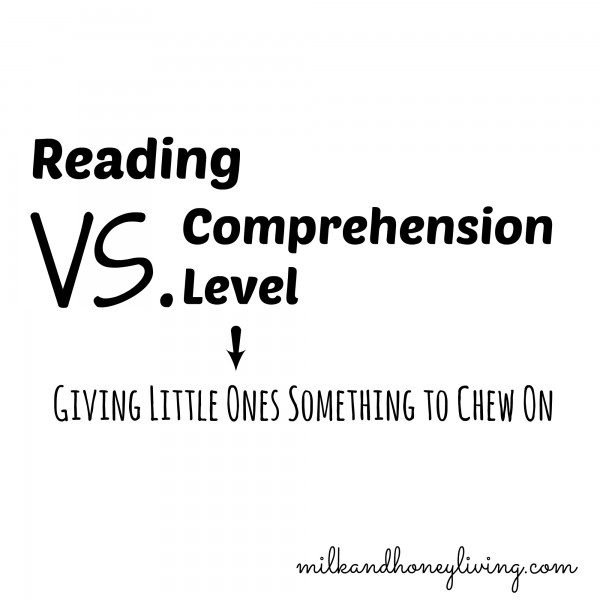 Structured lesson plans would be probably be geared toward 1st or 2nd grade, which most likely results in the age label. But my point and hopefully encouragement is to offer freedom and motivation…
Do not be swayed by what you should and should not be reading to your child based on age/grade level.
You might ask:
Why not read at the age at which professionals have labeled? Can't I trust their assessment?
Because they are labeled by when a child might be able to read them on their own and not by when they can comprehend them. Take for example, small children before they can speak; they might not be able to say the word ball, but when you say, "bring me the ball," they are able to identify the object and retrieve it easily. The same goes for reading comprehension. They understand stories long before they can read words; therefore they can certainly understand higher level language and content before they can read it or use it in a sentence.
That being said,
GIVE THEM SOMETHING TO CHEW ON!
I am not (at all) forcing literacy or desiring my children to read by a certain age. I will not put any undo pressure on them until they are ready and excited to learn. I just want to enjoy the magical world and adventure of stories together and I want to instill that same love of literature in them.
However, statistically, reading books at higher comprehension levels will increase the likelihood of higher comprehension in the long run, larger vocabulary, and earlier reading skills. The more that goes in (and the higher the quality of the content), the more they have to process and the farther their little minds can expand and explore.
When should we stick to the suggested reading levels?
In relation to foul language or questionable content. Will this book be too scary? Overwhelming? Too deep? Too relationally mature? Etc. for my _ year old?
Solution? Simply preview the books before reading them aloud. If it is above current comprehension level – a little too wordy, scary, or fast paced – it can remain on a list for later (but most likely not as late as the grade levels suggested).
But they like shorter and suggested reading level books! Shouldn't we read what they like?
ABSOLUTELY! I often read books to my 2 and 4 year old at the same time, the oldest always enjoys shorter/simpler books with his brother (and is free to choose them when we're reading alone, too). However, children enjoy familiarity and are most likely not going to find different literature of higher levels on their own. So, in addition to sticking with what they know and love, don't stifle their intellectual ability, but rather sprinkle in new pieces that demand more processing (they will most likely rise to the occasion). If you are concerned with or working to expand their attention span or comprehension level, here are a few tips on when to read with young children; really, the best way is to just read good books, often!
But also,
Know when to back down!
There have been times we tried reading something that was above comprehension (or attention span). Fair enough! No pressure, no pushing…we'll circle back in due time.
I hope this is encouraging and motivating in that we all have the great opportunity to enjoy literature with our children and it can be a constant exploration to find what they while always presenting the next challenge!
Your Turn: What do you find most challenging about reading with children? Attention span struggles? Getting bored with the same 'ol? 
~ Becca
For a list of parties I link-up with, click here!
This post contains affiliate links!
The following two tabs change content below.
I hope you enjoyed reading Milk & Honey Living! I always appreciate your comments and love to connect with readers. If you don't want to miss a post, be sure to subscribe via email or rss feed; or follow me on Facebook, Twitter, and Pinterest!