If you're new here, you can find my original Waiting Questionnaire and explanation to read all the questions & know a little more about why I'm tracking this time…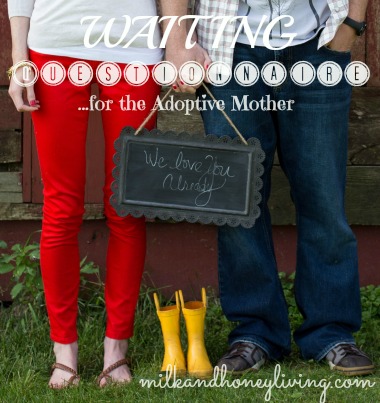 Another month has passed as we wait; I wanted to share a quick update.
How long have you been waiting? 176 days.
Any News? A little while ago, we received our acceptance into an incredible fundraiser. We have the opportunity to work with a remarkable foundation to help fund the cost of our adoption. I will absolutely be sharing more on this, but in the meantime, we are beginning the logistical process.
How are you feeling today? Impatient. I know that people wait much, much longer to conceive or adopt a child than 6 months, but I'd so love to have our baby home and transition into life as a family of five. It is not a restless impatience. Really, the closest thing I can compare my emotion to is being 6 months pregnant…knowing there is a little more time to go, but eager to meet this child and know who they are; to start seeing who they will become. In this case, I am eager to know from whom and where they are, literally and geographically.
What are your prayers right now? As always, for the Lord's timing as well as what's listed above. That I/we would be focused on all that is important and eternal. To have a clear vision for God and his desire for whomever this child is that comes home.
What have you done with your kids this week? I'm thankful for the nice weather and sunshine. The warmth (I use the term loosely) and fresh air stirred and woke up the spirit inside me!  Yesterday was amazing – we spent three hours playing at Barnes & Noble, having lunch, and listening to story time – the boys were awesome and rested in the afternoon before we spent about 2 hours outside! 
Nervous about anything? That we are not being viewed and the wait will be endless. It is hard to say that because really, honestly, I am content for the most part and cherishing my time as a mother of two and family of four. I trust the timing of when another child will enter our family. Ah, I don't have to say it; you know this! There are things I fear, moments I long for this child and want them here so badly it hurts, and then remind myself that soon the time will come. 
Dreaming about/Looking forward to this week: Holding the weight of a newborn again. Cal turned two last Saturday. Somehow, I still think of Max as my baby, but then I look at him. Look at Cal. Glance from one to the next. Remember I need to bend my knees when I lift them and I realize they are not as small as I consider them to be. My babies are four and two, they walk, talk, and feed themselves, and (occassionally, ha) sleep through the night! Remind me of this when I haven't slept in three months and feel like my brain might actually explode from transition, emotion, and exhaustion :)
That is all for now. We'd love your continued prayers and can't wait for the day we get to introduce our new baby!
Are you pregnant, waiting to adopt, or waiting to conceive right now? Please share answers to some of these questions in the comments or a post you've written on the topic. And feel free to interact and encourage one another!
~ Becca
For a list of parties I link-up with, click here.
The following two tabs change content below.
I hope you enjoyed reading Milk & Honey Living! I always appreciate your comments and love to connect with readers. If you don't want to miss a post, be sure to subscribe via email or rss feed; or follow me on Facebook, Twitter, and Pinterest!