I remember the first evening we were home with Max and settling in, Andy encouraged me to take a quick nap because the baby was sleeping on my brother-in-law, who was busy falling in love with him. Everything was under control.
I settled into my bed and immediately…
BURST INTO TEARS!
It was literally the first time I was physically alone in 9+ months. I was obviously thrilled he had made his way to the outside, but sad that my time of carrying him had come to a close. I loved pregnancy because even during the rough stuff, each baby was always with me; their life attached to mine. It was an experience I only shared with the tiny little person growing inside of me and it was the very beginning of our relationship!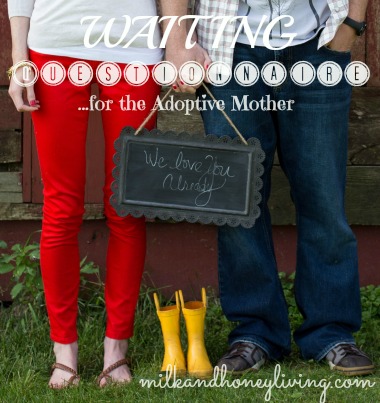 I've followed blogs, where each week the pregnant mommy completed a questionnaire of how far along she was, how she's feeling, how she's sleeping, weight gain, food aversions, movement and so on. We are expecting another baby in our home for whom we are to love, provide, and care for the rest of our lives, but I don't know any of these things about my baby's IN tummy time. So, I got to thinking…I thought it would be fun to share a:
WAITING Questionnaire…for the Adoptive Mother!
This will be my attempt to track what is going on in my home & heart (and emotional state :), during this period of time we're expectantly waiting!
How long have you been waiting? With our portfolio officially at agencies, about one month!
How do you feel this week? Actually, surprisingly awesome; we had a new, interesting and completely "out-of-left-field-and-we-have-no-clue-what-we're-doing" situation arise on the adoption front this past weekend. There might be a baby waiting, we are doing our due diligence to look into the circumstances but ultimately we are no closer to having our baby home than our current waiting status in other states, but we have really rallied in prayer to discern what the Lord has for us and that is powerful.
What's been on your mind? Whether or not the baby is already born
What are your prayers for this baby? That those who are caring for (or carrying) this child would be unbelievably loving and attentive; and he would be in the absolute best situation until he is here at home.
What are you doing to prepare? Nothing tangible at the moment (although writing this question made me realize we should probably start planning, because when we receive the call, we need to be ready at any moment) & Praying!
How are you taking care of yourself this week? I was very excited to start my weekly bible study again this past Wednesday, that mid-week time in fellowship with God and other women is life-giving!
What have you done with your kids this week? Lots and Lots! School, swimming class, walks, playing outside, play dough, reading, etc. Because they were still recovering, yesterday was the first time we left the house since last Tuesday (I've been away, just not with them).
Nervous about anything? The possibility of entering the foster care system
Dreaming about/Looking forward to this week: actually holding my next baby! I told Andy, I'm definitely getting the baby itch!
New Baby Items: None.
No belly shots :( But, I was drinking a glass of wine the night I wrote this ;)
There you go! I am planning to answer these questions every week or two to document this time & keep everyone up to date!
Your Turn (I'd love to hear your thoughts):

Are you a pregnant or waiting mama? Are you documenting the weeks as they pass? 
Did you keep certain records when you were expecting?
Sharing this post with: The Better Mom, Cornerstone Confessions, Time-Warp Wife, Growing Home, Raising Arrows, A Wise Woman Builds Her Home, Women Living Well, Walking Redeemed, Serving Joyfully, Raising Mighty Arrows, & Christian Mommy Blogger
The following two tabs change content below.
I hope you enjoyed reading Milk & Honey Living! I always appreciate your comments and love to connect with readers. If you don't want to miss a post, be sure to subscribe via email or rss feed; or follow me on Facebook, Twitter, and Pinterest!