My three year old is totally in that stage where his initially reaction to all food is, "No, I don't really like that," – one day he likes something, the next day he doesn't (but has to eat it anyway ;)
Last week, I shared my triumph on Facebook, when halfway through the meal with his mouth full he looked at me and said, "You can make this every night, mommy!" I was elated; and was especially happy that I already froze a batch for another night.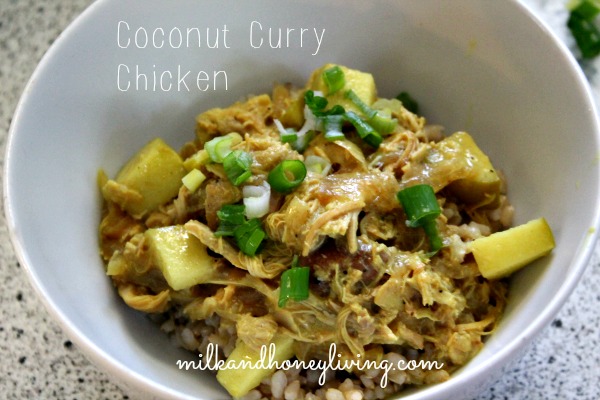 Since switching to homemade seasonings, I have yet to perfect many of them which sometimes leaves us feeling like things don't have much taste. Not the case in this instance!
To Freeze: Cook per the directions and let cool. Bag chicken and sauce and place in the freezer (I bagged half the recipe, about 1/2 pound of chicken over rice served all of us 1 meal and some extra for lunches). For serving, thaw in fridge overnight and place in slow cooker to heat through, about one hour before serving!
I hope you enjoy!

Coconut Curry Chicken
This recipe is so flavorful. The ingredients seem like they might be strong, but the curry and coconut milk create a more mild, smooth, and creamy taste and texture.
Author:
Becca @ Milk & Honey Living
Ingredients
1 or 1.5 lbs boneless, skinless chicken thighs
2 medium onions, halved and thinly sliced
6 cloves garlic, thinly sliced
14-16 dime-sized slices of peeled, fresh ginger (about 1 ounce)
2 Tablespoons curry powder
1 teaspoon ground cumin
1.5 teaspoons sea salt
½ teaspoon pepper
½ cup water
1 Granny Smith Apple, chopped (or a different tart variety)
1 can unsweetened coconut milk
For serving:
chopped green onions (optional)
over brown rice
Instructions
In the slow cooker, toss chicken in onion, garlic, ginger, curry powder, cumin, salt and pepper. Add ½ cup off water. Cover & cook 4 hours on high, or 8 hours on low.
Stir in coconut milk and apple, cook until heated through (20-30 minutes; if you're using more than one pound of meat add another ½ cup or so of water, or to your desired consistency)
Transfer chicken to a large bowl; shred with fork. Return to pot; toss with sauce.
To serve, garnish with green onions, if desired and serve over rice.
The following two tabs change content below.
I hope you enjoyed reading Milk & Honey Living! I always appreciate your comments and love to connect with readers. If you don't want to miss a post, be sure to subscribe via email or rss feed; or follow me on Facebook, Twitter, and Pinterest!