There are tons of dairy-free recipes out there, which is fantastic for those with allergies, but also awesome if you're just trying to cut a little more dairy out of your diet. However, they obviously often require a different approach or ingredients (like using more canned coconut milk, such as in this Coconut Curry Chicken or crock-pot egg bakes).
This recipe was a very well-received low-dairy, dairy-free experiment (see note on pesto below)! The first time I made it, I asked Andy what was different about it from regular lasagna and he couldn't put his finger on it. When another dairy-free friend said she preferred it to her regular lasagna recipe; I knew we were on to something!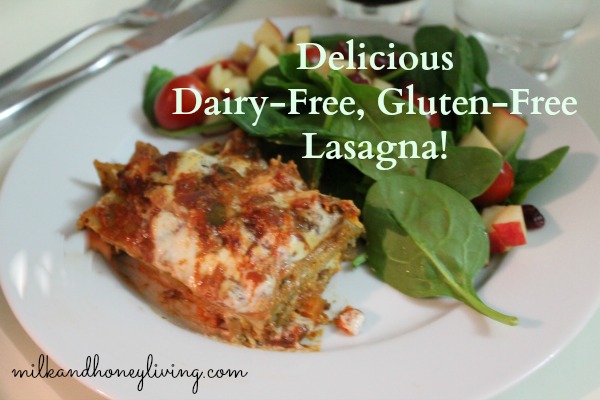 If you're familiar with making Lasagna, you know it is slightly labor intensive because there are a few different steps, and in this case, you also have to make your Cashew Cream "Ricotta Cheese" (it only takes about 5 minutes). Try not to be intimidated by the length of the directions – the prep is not a weeknight "get it on the table quick" meal, but it is a fabulous weekend prep/meal to eat and make extra for the freezer! The recipe below is ALREADY DOUBLED (which makes for at least 4 meals for us)! So, you can either assemble two and simply place one in the freezer before the final baking step. Or you can prepare a double batch of sauce/cream, divide in half and freeze and thaw before assembling more lasagna another day. When I make Lasagna, I make it in bulk!
NOTE!! I added a layer of pesto…but pesto has CHEESE IN IT! So, if you are entirely dairy-free you need to either: eliminate the pesto and add some additional salt/seasoning or substitute a dairy-free version (like this one). I learned this pesto idea from my friend Sarah's blog and her gorgeous Harvest Veggie Lasagna and I am so, so, so glad I tried it! It adds a totally different, unique layer of flavor!
If you are gluten-free, try these lasagna rice noodles!

Delicious Dairy-Free, Gluten-Free Lasagna
Ingredients
Red Sauce:
2 large red onion, diced
2 green bell pepper, diced
4 small carrots
6 cloves garlic, minced
2 Tablespoon dried, crushed oregano
2 teaspoon salt
2 pound ground beef
2 cup red wine
2 25.5 ounce jar of crushed tomatoes
Cashew Cream "Ricotta":
2 cups raw unsalted cashews, soaked for at least 30 minutes
1.5 cups water
2 eggs
1 teaspoon salt
2 Tablespoons dried, crushed parsley
1 Tablespoon dried, crushed basil
Additional Ingredients:
2 boxes of Whole Wheat or Gluten-Free Rice Lasagna Noodles
2 - 8 Ounce jars of Pesto (NOTE: Pesto has cheese in it, if you need entirely dairy free skip the pesto or buy dairy-free)
Instructions
Preheat oven to 350
Begin by soaking your cashews, cover 2 cups cashews in cold water, cover with cloth, and set aside (for 30 minutes or up to 6 hours).
Prepare vegetables
Over medium-high heat, saute onions, green peppers, and garlic in olive oil until soft (about 5-8 minutes)
Add ground beef, oregano, salt - brown (about 10 minutes)
Once the meat is browned, drain the fat.
Add wine and cook to reduce (about 5 minutes)
Add jars of crushed tomatoes. Stir well to combine. Allow to simmer over low heat for about 20 minutes.
While sauce simmers, bring a large pot of water to a boil and cook noodles according to package directions.
While sauce simmers and noodles boil, prepare cashew cream
Drain water from soaked cashews and rinse.
Place cashews in food processor or blender with 1.5 cups of water. Puree until cashews are as smooth as possible (a couple/few minutes).
Add eggs, parsley, and basil and pulse.
Now, to build the Lasagna!
Remember: This recipe is doubled, so separate half of your sauce and cream before assembling!
Layer a few spoonfuls of red sauce on the bottom of a 9x13 baking dish.
Layer #1 of noodles, cover with some red sauce, add "ricotta" on top of that.
Layer #2 of noodles, cover with some red sauce, add "ricotta" on top of that.
Layer #3 of noodles, cover completely with 8 ounces of pesto.
Layer #4 of noodles, cover with the rest of red sauce, and add "ricotta" on top of that for final layer.
Bake at 350 for about 30 minutes.
Let cool 5 minutes before serving.
Recipe adapted from
Dance While you Cook
!
I hope you enjoy!
Is Lasagna one of your staple recipes?
Have you experimented with Dairy alternatives? If so, do share! 
Click HERE for a list of blogs I'm linking up with!
The following two tabs change content below.
I hope you enjoyed reading Milk & Honey Living! I always appreciate your comments and love to connect with readers. If you don't want to miss a post, be sure to subscribe via email or rss feed; or follow me on Facebook, Twitter, and Pinterest!