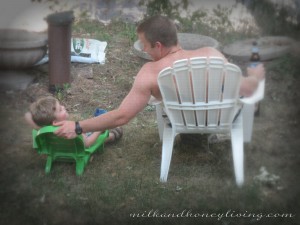 In the 90 degree heat, I watched as Max took off his shirt.
He wrestled and when his head popped free, his face shot up with elation that could never be captured in photograph; but I could interpret the expression and his little heart immediately,
I am just like daddy.
He looked back and forth between them, patting his chest and smiling a broad, proud smile before busily going back to his work. Even then, one could note his stature a little stronger and his chin a little higher.
And my body physically responded to the sight…My heart leapt and my breath caught at the sheer magnitude of how our example will shape these boys to be men.
In everything set them an example by doing what is good. Titus: 2:7
Daily he imitates both of us; our actions and behavior. As their mother I play a significant role in shaping their character and leading by example, but as I snuck away and secretly watched, I was in awe of how Max displays an entirely different level of reverence and respect to this man. Not in the way of comparison, but rather by the innate bond they share simply because they are both men. And there is something different, more profound, about a boy imitating a man:  
When Daddy builds a fence, so does his son.
When Daddy wears a hat, so does his son.
I like this simple emulation of physical characteristics and hard work, but what is more:
When Daddy calls Mommy beautiful, so does his son.
When Daddy bows his head in prayer, so does his son.
When Daddy opens up the Living Word of God, so does his son.
Daddy wrestles and runs and pushes and plays and Max loves every moment they go rolling around together on the living room floor. This man is tall and big and capable and strong; his voice booms and his instructions demand action. But simultaneously, he scoops him up, kisses his cheeks, cuddles and sings, read stories and speaks gentle words of Truth over his young son, and the boy is equally rapt.
What the father displays will form so much of a boy's understanding of what it is to be a man. And more than anything else I want them to observe: masculinity & gentleness, confidence & humility, leadership & willingness to follow, love & respect, discipline & understanding, wise counsel & a listening ear.
In turn, I want my boys to uphold all these things they've observed, love the Lord with all their heart, soul, mind, and strength; love people, respect women, honor their purity, and lift the faces of the oppressed.
I know this all sounds a bit passionate and inflamed, but truth be told, it is. The phrases, "Where are all the good men?" & "Oh, well that's just men for you," are all too common.
First, I dislike such sweeping generalizations, because I still think there are many incredible men; I happen to believe I am married to one of them and we should not be so quick to undermine their efforts.
Also, I feel like we are quick to blame them when they are not the wonderful men we expect to exist, but aren't willing to put in the grunt work in their youth to build them up into the men they are designed to be!
This is not to say our boys are guaranteed to obtain these character traits and by no means do I expect them to be perfect (we are all so far from it), but by grace of God I pray these little boys want to be MEN and have a great example to follow!
These men, fathers, are called to a high standard and I pray that we are constantly pulling in the same direction as a family. That I embrace, honor, and respect my husband's masculinity and leadership as we work together to raise up this next generation of godly men… Shirtless and all.
The following two tabs change content below.
I hope you enjoyed reading Milk & Honey Living! I always appreciate your comments and love to connect with readers. If you don't want to miss a post, be sure to subscribe via email or rss feed; or follow me on Facebook, Twitter, and Pinterest!