In what ways does being honest about the struggles and trials, as well as the joys and celebrations, of the Christian life help you open your heart to others?*
This question plagued me as I worked through this week's Bible study.
Most of my young life, I've felt it was just good sense to share success rather than failure. I wouldn't tell my family that I had a job interview…until after I got the job. I wouldn't tell them about a big exam…until I clipped the A on our fridge. This behavior was/is typical among all of us. An immediate family member actually had a minor surgery once without sharing that information beforehand! You know, share the joy, excitement, and success. Why bother sharing the pitfalls along the way?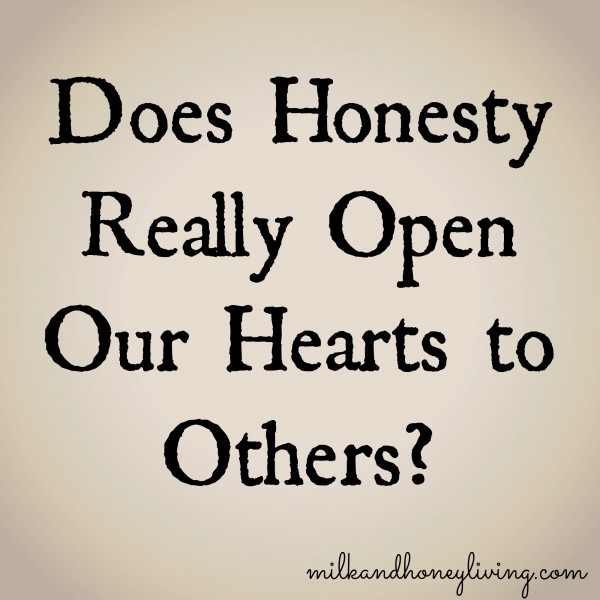 I've come to realize more and more in my adult life that this is not good sense, in fact, it is the opposite. This is not to say we need to share EVERY failure or success; wallow or boast. Rather, editing what others see of us limits the depth and intimacy of relationships, while stifling our authentic selves.
So, to answer the question:
Being honest to and about ourselves, opens our hearts to others because it is only vulnerability that leads to real relationship. If we cannot admit our own brokenness, how will we ever be able to accept anyone else's?
Which leads me to thinking…
If we are not humble enough to admit to ourselves and others that we are not perfect and in fact stumble quite a bit, then how could we honestly access and humbly admit our need for a Savior?
Part of the passage I was working through this week was 2 Corinthians 6:3-13. It offers depth of insight to Paul's remarkable struggles and joys throughout his Christian journey, but the final verses wrap it all up and display the example we are to take away…
…dying, and yet we live on; beaten, and yet not killed; sorrowful, yet always rejoicing; poor, yet making many rich; having nothing, and yet possessing everything.We have spoken freely to you, Corinthians, and opened wide our hearts to you. We are not withholding our affection from you, but you are withholding yours from us. As a fair exchange—I speak as to my children—open wide your hearts also." 2 Corinthians 6:9(b)-13
By openly sharing his trials and joy, what he is really doing is offering them his authentic self. In his sharing, he is relating to others and encouraging that they open up their hearts and be vulnerable. (There is a ton more to the background of this passage, so this is not a conclusive overview of why he is writing to the Corinthians)
Vulnerability might not be easy or well-received, but it does tear off our illusion of perfection. And what does one receive in return? For better or worse, at least there is real relationship!
*Study of 2 Corinthians by N.T. Wright
What is your answer to the opening question?
~ Becca
For a list of parties I link up with, click here!
This post contains an affiliate link.
The following two tabs change content below.
I hope you enjoyed reading Milk & Honey Living! I always appreciate your comments and love to connect with readers. If you don't want to miss a post, be sure to subscribe via email or rss feed; or follow me on Facebook, Twitter, and Pinterest!