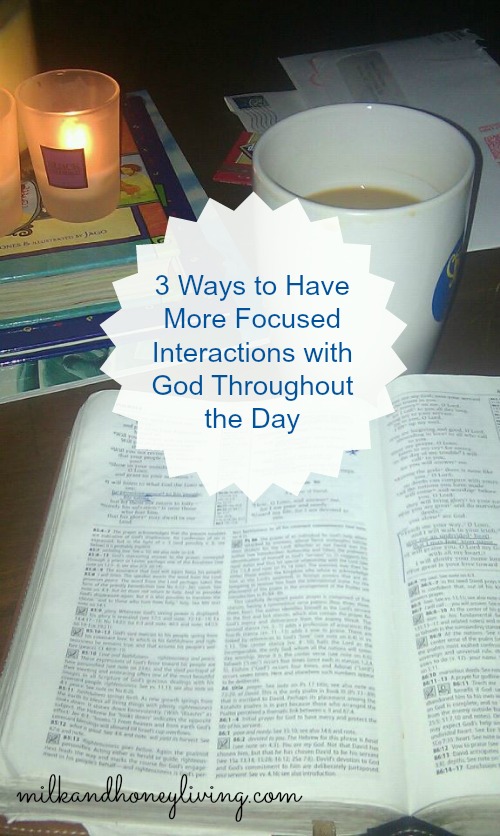 I was tossing and turning in bed and thought to myself, just rest. Later, still restless, I prompted my thoughts, "Just meditate on scripture, what did you read today?" I kid you not, the first thing that went through my head was…
In the light of the moon, a little egg lay on a leaf (you might recognize this as the opening line of The Very Hungry Caterpillar). Ha. Okay. Try again!
I was racking my very distracted brain, trying to land on a verse from the day. Something would come and slip away just as quickly, apparently more important concepts were squeezing it back from the forefront. In an unfocussed, anxious state, often even when I am seeking God, I am not falling prostrate before Him and panting for His word.
I am reading, but not retaining; or praying but not prayerful.
In that moment, a few reminders came to me for how to more clearly focus my interactions with God. Not, "how to have great quiet times," I'm talking specifically about how to maximize the pockets of time throughout the day I'm drawn to re-focus my attention on God.
Admit it
God knows when I'm trying to focus on Him but my mind is wandering; I'm not fooling Him. Simply stopping to admit my distraction and ask the Holy Spirit to please come and help me refocus and protect me from further distraction can wrangle my thoughts and quiet my spirit. (I might have to repeat this over and over, but I'm moving in the right direction vs. assuming I'm "just too busy" to think about God right now).
Think on the CONTENT instead of the Accomplishment:
I love reading scripture, but I loath when I look back on my time and think about what chapter or amount I read, instead of taking time to think on a specific verse that spoke to me. The important part is burying His Word in our hearts, so that in busy moments throughout my day they resonate within me or I can recall them without actually opening the Bible. Usually the moment I realize I am just reading to put a check in a box, I stop and tell God about it (see #1), because:
You do not desire a sacrifice, or I would offer one. You do not want a burnt offering. The sacrifice you desire is a broken spirit. You will not reject a broken and repentant heart, O God. – Psalm 51:16-17
He doesn't want me to put in my time and read a certain amount (although His word is vitally important to the Christian life and growing our faith), he wants the humble acknowledgment of my brokenness and a repentant heart to come before Him. NOT looking for what He can do for me, but what in my lowly state, I might possibly be able to offer back to Him.
Instead of crafting the perfect prayer. PRAY!
I often catch myself thinking about what I want to pray about when I have time to sit down and pray. How frivolous! That time in and of itself is prayer; it is just the contorted, selfish version focused on me and how I am going to articulately present my prayer to the Lord, instead of just praying it. I spend time thinking about what I want to pray for other people, and then half way through some dish-soaked hand thought-process, I realize I should just be saying these things to the Lord. But it always takes this realization to turn the crafting of prayer into the act of praying.
When I don't have the words? Pray His WORD right back to him (see #2)…
~ Becca
What are your suggestions to help you focus your thoughts on God throughout the day
The following two tabs change content below.
I hope you enjoyed reading Milk & Honey Living! I always appreciate your comments and love to connect with readers. If you don't want to miss a post, be sure to subscribe via email or rss feed; or follow me on Facebook, Twitter, and Pinterest!