I took an unplanned blogging break these past couple weeks and squeezed out every glorious ounce of the real life that played out before me! Amongst the myriad of events and preparations, this year, there were entirely unexpected orders to fill (which was a great surprise and privilege).
The days between Thanksgiving and Christmas are my most beloved of the year. Every day feels a little more magical than the norm, brimming with anticipation and joy, and filling me with indescribable warmth. I'm always sad to say farewell so quickly; the actual day but just arrives when it leaves.
But I'm content, this year, I cherished the time as it happened.
There was:
…snow to play in, hot cocoa to stir, cookies to bake, stories to read…
A home to decorate – tree-lighting, long-lingering, candles burning, music playing…
…Movies to watch, presents to wrap, food to make and cards to write.
And most joyously, the front and center awareness of Jesus Christ our Savior to celebrate!
We have the privilege of living fairly close to both of our families. So far, we still divide up the days between our families. On Christmas Eve, we enjoyed a PJ-clad morning as our family of four. It was your typical gift-opening, new toy shenanigans, and grand breakfast.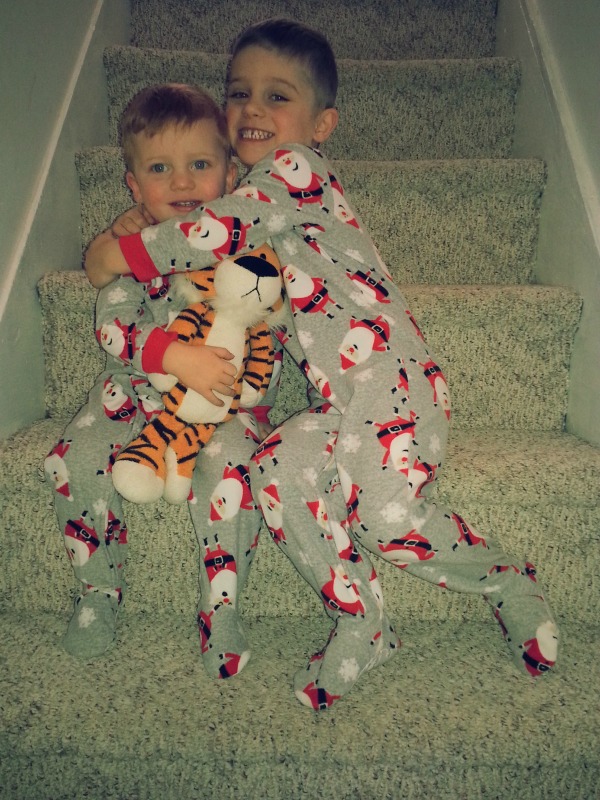 We attempted to let the boys rest before heading to church and spending the evening with Andy's family. Dinner. Games…delightful.
Christmas Day we wake at Grandma and Grandpas for breakfast and gifts; songs and scripture. Then pack up and head to Nana's house for more food, more presents, more family…more. more. more.
All-in-all it is an indulgent affair, but I suppose that is why I write it. We are aware these things are blessings. Not blessings in the way that we love God and therefore He has blessed us. Blessings in that we in no way shape or form deserve any such treasures and yet we've been given the opportunity to enjoy them.
We are aware of the warm homes in which we gather. Filled with the scent of a Christmas ham in the oven, cookies on the hutch, and candles burning on the hearth. We are aware that gathering together with family is a gift that some long for and cannot attain and others have never experienced. We are aware that we have more than enough and yet have new toys, books, and clothes.
And appreciating it made every moment that much more beautiful.
Opening each gift, Max exclaimed, "Oh. My. Goodness." It was such pure excitement, enjoyment, and appreciation of exactly what was placed before him.
Cal sat in the boxes giggling and followed Max around being interested in his interests :)
I hope you and yours had a very Merry Christmas, celebrating the birth of Jesus into our world and anticipating His return!
~ Becca
The following two tabs change content below.
I hope you enjoyed reading Milk & Honey Living! I always appreciate your comments and love to connect with readers. If you don't want to miss a post, be sure to subscribe via email or rss feed; or follow me on Facebook, Twitter, and Pinterest!