The snow had fallen as we slept and we woke to roads and trees that reflected the sky's night work. Two months shy of two years old and thirty-two weeks pregnant; it was just him and me.
It was December in Wisconsin. The wind was bitter, but there were long caged-in, pent-up movements that needed open space to break free.
We braved crossing the threshold.
Immediately, he found the tire tracks daddy left behind.  He honed in, his mission clear. But I wondered…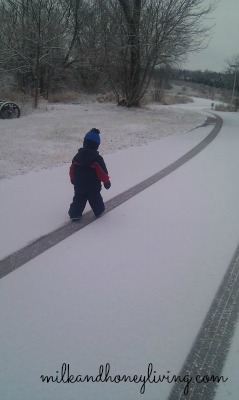 Why did he stay put within those thin lines?
Between the oversized snow-suit and all necessary accoutrements, I was surprised he could see one foot in front of his face, let alone have the wherewithal to keep his mind on the task. It would have been relatively easy to navigate the snow covered drive way, it was not slippery or deep. It would have taken far less patience to run wildly. Instead, he steadily maintained his balance.
He fervently plodded forward, making sure to stay where the tracks were leading; occasionally looking back to validate his effort.
Watching, I supposed it would do me some good to "change and become like this little child." For, with no understanding, he modeled what it is to,
Enter by the narrow gate; for wide is the gate and broad is the way that leads to destruction, and there are many who go in by it.  Because narrow is the gate and difficult is the way which leads to life, and there are few who find it. – Matthew 7:13-14
Sometimes, the challenge to follow a path laid before us is exciting, fun, and easy. Other times, the challenge is just plain challenging. It would be easier to let go, stumble a little, lose our balance, or walk outside the lines. Seemingly, no harm would be done, but in pursuing momentary ease, we would lose the great reward of looking back on our completed work. 
At 22 months old, he followed the path in its entirety.
His walking of the narrow path will forever remain my visual prayer for his faith and our family's walk with the Lord. That we would passionately pursue righteousness, that His work in us would be carried out to completion, and we would take the difficult path in order to enter by the narrow gate. And, still more, to see all that through the eyes of a little child, with joy and perseverance!
After our morning's work, it was the first time he'd ever asked to go inside and take a nap, one mission accomplished. Another more fully realized.
~ Becca
The following two tabs change content below.
I hope you enjoyed reading Milk & Honey Living! I always appreciate your comments and love to connect with readers. If you don't want to miss a post, be sure to subscribe via email or rss feed; or follow me on Facebook, Twitter, and Pinterest!