Summer in WI is prime time for smoothies (granted this past weekend was a unseasonably balmy 55 degrees). But, who am I kidding? I drink smoothies all year long because they taste great and it is the fastest way to get a huge amount of food and nourishment into my body that I can have a hard time consuming otherwise. Eating a whole salad can take a little time, essentially 'drinking a salad' goes down more quickly.
Many people know the secret of adding leafy greens like spinach or kale to a smoothie to consume them but not go through all that trouble of actually chewing ;) but many people don't think to add my favorite secret ingredient: Avocado.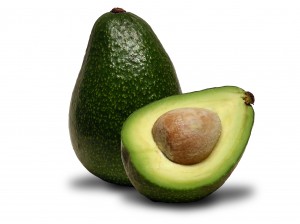 Its subtle flavor is easily overshadowed by sweeter counterparts, so no sweat there. But simultaneously, the creamy texture allows me to only use half of a banana, still reaping the benefit of its sweetness and nutrients, but consuming half the sugar (natural yes, but sugar is sugar and if you're also adding other fruits or dairy that total amount of sugar increases really quickly). To be clear, a banana has 28g of sugar and an Avocado has 1g. That is a huge difference in what your body is metabolizing! Not to mention, our bodies actually NEED fat to absorb the nutrients from fruits and veggies, so the generous avocado not only offers its own nutrients it also helps us absorb those from his friends.
Also, since I always make it for the boys to share, when my little one showed signs of a dairy sensitivity I started eliminating the use of milk and yogurt in our smoothies. Once again, the avocado offers the same creaminess but less sugar than adding yogurt, milk, or more fruit.
My Typical Smoothie Ingredients might include:
½ Banana and/or
½ cup frozen organic mixed berries
½ Avocado
A couple heaping handfuls of Spinach
1-2 Tablespoons Chia Seeds
About 8-12 oz. of Water
There are 341 billion smoothie recipes (rounding up, of course); therefore, ingredients are always whatever I have on hand. But it is fun to throw in something that doesn't change the taste much, but adds a nutritional punch.
Note to Self: Between the avocado, spinach and chia seeds, the color can get a little funky and a prepared smoothie shouldn't wait around too long before drinking because it will thicken up quickly. Don't let that disturb you, it's worth it; for the busy mama actually getting good nutrition INTO our bodies is half the battle!
The following two tabs change content below.
I hope you enjoyed reading Milk & Honey Living! I always appreciate your comments and love to connect with readers. If you don't want to miss a post, be sure to subscribe via email or rss feed; or follow me on Facebook, Twitter, and Pinterest!