After learning more about the incredible benefits of traditional food fermentation and especially the benefits of the healthy probiotics found in yogurt, I am totally convinced that yogurt is an absolute must in my kitchen for the health of my family. I am NOT talking about dyed, naturally or artificially sweetened and flavored yogurt; I am talking about the organic, whole milk, unsweetened, plain kind! Once you have plain yogurt, there are ways to naturally sweeten it (and control the amount) by using raw honey, maple syrup, agave nectar, berries, or fruit puree, etc. If this isn't the most gorgeous and tasty afternoon snack, I don't know what is! Throw on some Homemade Granola or a few raw almonds and you're set!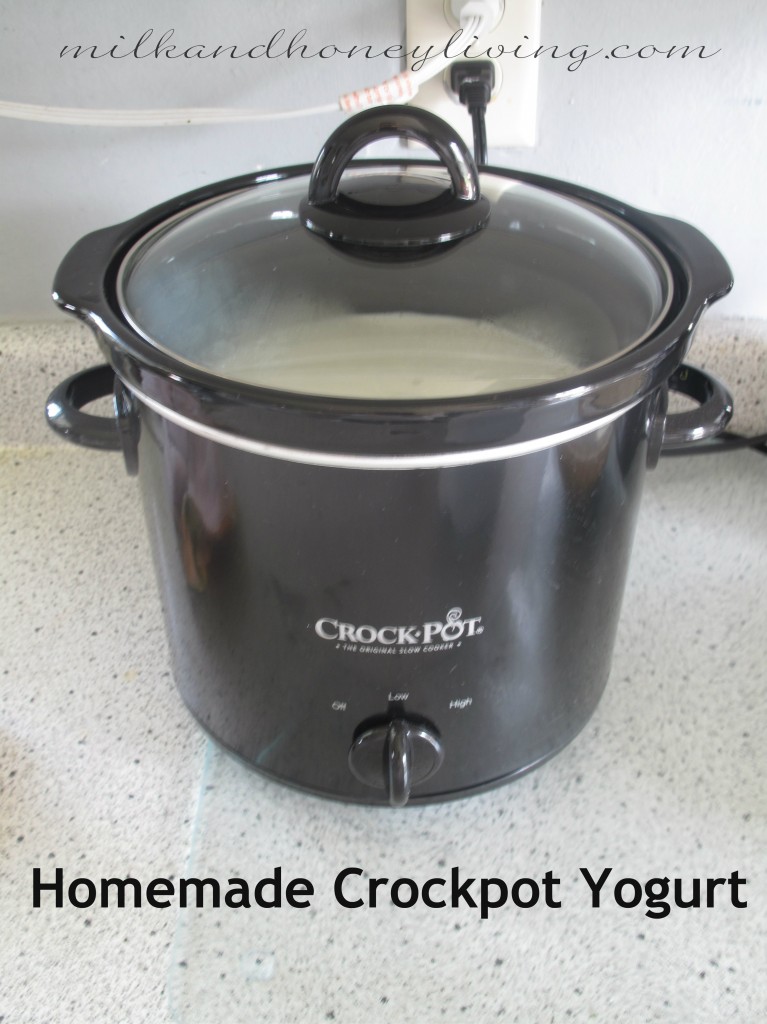 This might seem ridiculous, but let me give you a little yogurt expense breakdown:
Annual Yogurt Expense
It is probably fairly typical for many growing families to spend money on yogurt each week; it is probably less typical to think about how much one actually spends on an individual grocery item over the course of a year.  Well, the local grocery store that I had previously been purchasing our organic whole milk plain yogurt has now gone up in price to an INSANE $5.19/quart. WHAT?! I will say, I searched around and found it for $3.39/quart at another local store, but depending on where I am planning to shop when we need it means I might spend anywhere from $3.39 and about $4.50 (I REFUSE to spend $5.19). Either way, our annual yogurt cost COULD be up to $234. Yes, that is almost $250 a year JUST on yogurt!
With that said, for the last few months I have been making our yogurt. There are a variety of reasons it has become a priority, but the far and away number one reason is the budget.
Annual Homemade Yogurt Savings
After figuring out how much I could be spending, I wanted to see how much I was saving. I currently make 2 quarts for $3.50 or less (that is $1.75/quart). That means, assuming we eat 1 quart/week, I could be spending anywhere between $176-$234/year! Instead, making it costs us $91/year; however, I'll round up to $100 because I buy a new yogurt starter after every few batches and we might use more than one quart in a week.
Regardless, roughly 10 minutes of my time every two weeks saves anywhere from $76-134/year. To take it one step further, breaking that down into an "hourly wage" means I "make" (or simply don't spend) roughly $33/hour of invested effort.
Every time I mention that I make yogurt, people are a little shocked, a bit confused ("you can do that?"), but definitely curious! I know it sounds a little creepy, as one is essentially growing (good) bacteria in her kitchen, but it is so easy! And I started realizing, "wait, I trust huge corporations to produce my food, yet won't trust myself and "traditional" methods?" So, I gave it a shot and love it! We eat a boatload of yogurt each week; as mentioned above, it is a great snack (with berries, nuts or homemade granola), it is a delicious & healthy base for creamy smoothies, and it is perfect for some of my baking. Plus, this homemade recipe tastes just as good, if not better, than its store bought counterpart.
So, do you want to know how?
While researching, I came across a wide variety of yogurt recipes and ways to make it, but ultimately this Crockpot Yogurt seemed the easiest and most fool-proof!
Homemade Crockpot Yogurt
In a 4 quart crockpot, pour in 1/2 gallon (8 cups) of milk
Turn crockpot on LOW and heat for 2 hours & 45 minutes
After time has elapsed, turn off the crockpot and let the milk cool in the crock with the lid on for 3 hours.
After the additional time has elapsed, remove lid and stir in 1/2 cup of yogurt with live active cultures and mix very well (I whisk while I pour and then for an additional 30 seconds or so).
Place the cover back on the crock and wrap the entire crock pot in a thick bath towel or two.
Let culture overnight, 8-12 hours.
In the morning stir yogurt and transfer it to glass quart jars or a container of your choice.
Refrigerate for at least 8 hours before using.
(Recipe adapted from Nourising Days)
Personal Notes (directions and ingredients):
I use Organic Valley Whole Milk and Stoneyfield Farms Organic Whole Milk Plain Yogurt as my starter yogurt (i.e. the 1/2 cup that is whisked into the heated milk). On "yogurt making day" I always start the yogurt at 2:30pm because that allows me to turn off the heat at 5:15 (when we're usually in the kitchen for dinner anyway) and then add the starter at 8:15pm. That way, I know that I will be up and home the next morning between the 8-12 hour culture time in order to transfer it to other storage containers and pop it in the fridge. The whole process truly doesn't take any more than 10 minutes and it has yielded ideal yogurt every time.
I'd love to hear if you give it a shot or have any questions!
The following two tabs change content below.
I hope you enjoyed reading Milk & Honey Living! I always appreciate your comments and love to connect with readers. If you don't want to miss a post, be sure to subscribe via email or rss feed; or follow me on Facebook, Twitter, and Pinterest!