Today is the first day of Lent.
In my previous post, I wrote more to the history, how, and why of Lent – the significance of the 40 days, why traditionally people give thing up or add things in, etc. It gives a tiny glimpse into one experience that helped shape my faith, so please read if you need a little more back story on what Lent is and how it can impact our faith. But, I didn't want to leave you hanging there, so here are some suggestions and great resources on how to intentionally observe Lent individually and as a family!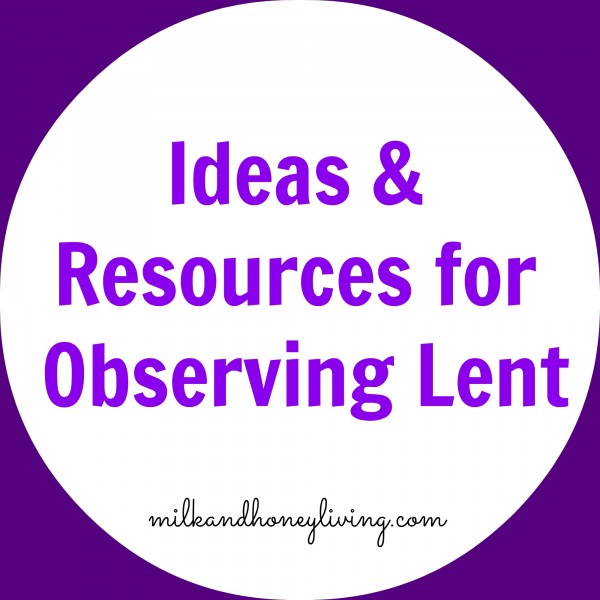 Ideas of things to Give Up:
Here some more unique ideas of things to give up, but some common (but definitely impactful) ideas include giving up:
sweets/sugar
Facebook
television
caffeine/soda
prepackaged or fast-food
shopping (for all non-essentials)
using the dishwasher (I wish I had a dishwasher to give up :)
I also love the idea of 40 Bags in 40 Days (going through the house and filling up 1 bag/day to donate) or Doing Lent Generously. 
Ideas/Uses of time that could be Added-In:
Resources for Observing Lent with Kids:
(For additional ideas on observing lent or as you prepare to celebrate Easter, you can follow my Easter board on Pinterest.)
Do you observe Lent as a Family? Have you in the past? How? Or are you hoping to start this as a family faith-building tradition? 
~ Becca
(This post contains affiliate links)
For a list of sites I link-up with, click here)
The following two tabs change content below.
I hope you enjoyed reading Milk & Honey Living! I always appreciate your comments and love to connect with readers. If you don't want to miss a post, be sure to subscribe via email or rss feed; or follow me on Facebook, Twitter, and Pinterest!