Last weekend we hosted a birthday party for our boys! I absolutely love being surrounded by family and friends to celebrate our sweet little boys' lives. It is thrilling to throw parties, watch their faces beam as they pass through decorated doorways, and cherish their anticipation; it all delights a mother's soul.
However, as a family, we try to be aware and wrestle with establishing limits/boundaries on these events. In our very Pinterest-ing world, children's birthday parties can become entirely over the top, pulling out all the stops and allowing the children to roll casually into the oncoming traffic of high expectation and entitlement. Don't get me wrong, I love a joyful celebration, but believe there are ways we can be wise and frugal, in order to corral their tender hearts to understand these things are incredible blessings and not guaranteed!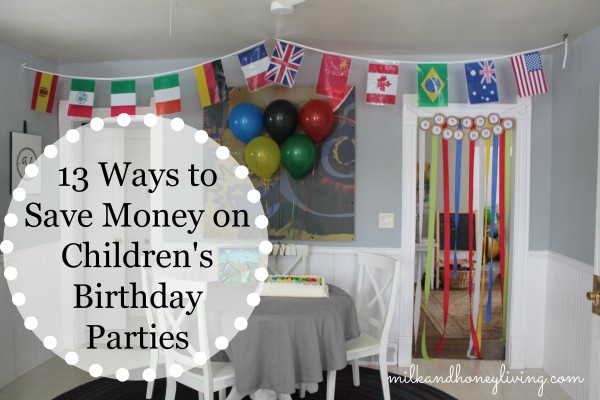 This year, we went with an Olympics Theme; and I'd love to share some photos from our day and tips on how to make it special without breaking the bank.
Decorations:
Minimal, Impactful Decorations
The only thing I bought for decorations this year was a flag banner and a couple balloons. The banner cost $5 and was the most noticeable/statement piece, it filled up the space, had festive appeal, and as we're homeschooling, it will certainly come in handy for future lessons.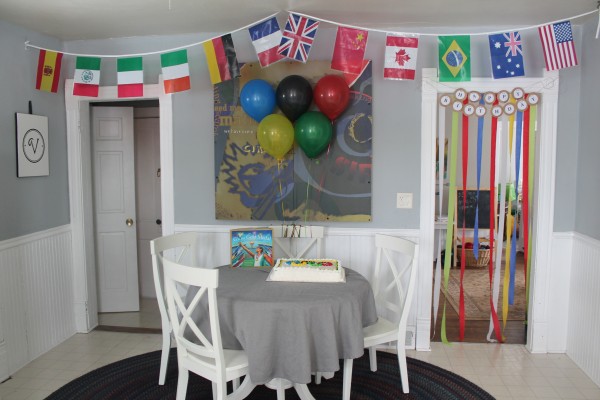 Only Decorate ONE space
I keep most/all decorations in the kitchen. It is the first space the guests enter and they can instantly pick up on the theme. No one needs elaborate decoration throughout every room of the house to get it.
Use Books/Gifts/Toys as Decorations!
The boys receive at least one book for pretty much every "holiday." Last year, we sure loved Curious George. On the day of his birthday he received a Curious George stuffed animal and books; on the day of the party they were our themed table décor :)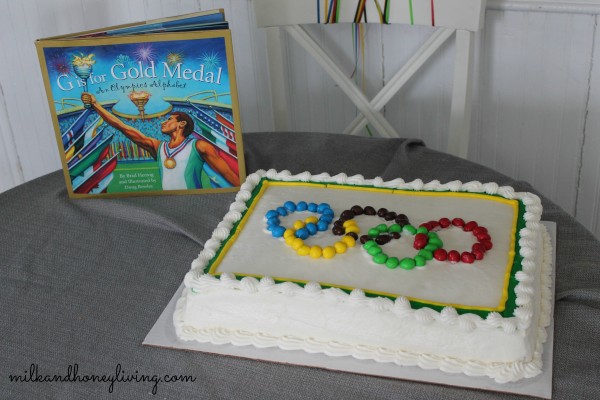 Make/Decorate your Dessert (This is Food & Decor)
Are you sensing a theme? Everything that is part of the day is part of the décor! This year I attempted to make the cake, and I was concerned with how it turned out (people ended up eating and enjoying it anyway), but I sent the hubs to buy a basic sheet cake and used the same toppings I was planning to use on mine.
Head to the Library!
The library has a huge selection if you want to decorate with books or puzzles. Or they typically have themed activity packs all compiled and in tubs to take home! This could be used as decoration and the party's activity time.
Reuse from Year-to-Year
You'll notice the same homemade banner from the train birthday party is hanging in the doorway of the Olympics party. I fold them up and tuck them away for next year! I also have some basic white frames, which I bought on clearance years ago. I print themed pictures or labels and use one as a welcome "wreath" on the door and a couple others where the kids are going to play. Not glamorous, just a touch of theme at no additional cost.
Guests & Food
Make your Invites (or skip them)!
Now, this is debatable, because sending invites certainly is a fun component to get excited and share the theme! I also think that some birthdays (#1, 5, 10, etc.) are "bigger" birthdays and might each call for different approaches. I've sent emails/evites, as well as paper invites. But the years I did send them, they were hand-made and not professionally designed or printed.
Limit the size
We are blessed to have a ton of family living within an hour, but that also means everyone can pretty much make it to every big event. So, a small gathering to celebrate can quickly become 60 family members before inviting any of our kid's friends. This year, we toned it down a bit by only inviting immediate family members (which is still a full house in our case) and I contacted our dear extended family to let them know, so no one would be hurt or offended. That is not to say we won't do bigger things on certain years, etc. but it definitely gets back to my point of setting proper expectations for our kids…I don't ever remember having 15 families/60 people (upwards of 20 gifts!!!) at my parties!
Don't serve a Meal!
I know parents of little ones usually schedule parties around nap times. But by scheduling from 9-11 am or 3-5 pm, you can typically accommodate your kid's and other's napping schedules and get away with serving some great snack foods and dessert instead of a full meal with more expensive proteins. We've also done a yogurt bar & banana splits (for Curious George).
Buy Solid Color Plates/Napkins & Bulk Plastic Cutlery
It is easy to get swept up and want matching plates, napkins, cups, cutlery, etc. For Max's second birthday, I bought a bulk set of blue dinner plates, dessert plates, and napkins, and have used them for the past three birthdays! While the designed ones are cute, they are much more expensive and then you will have left overs that no longer match a future theme. Or, when I found a good deal on napkins, I bought one pack and staggered them with the solid color.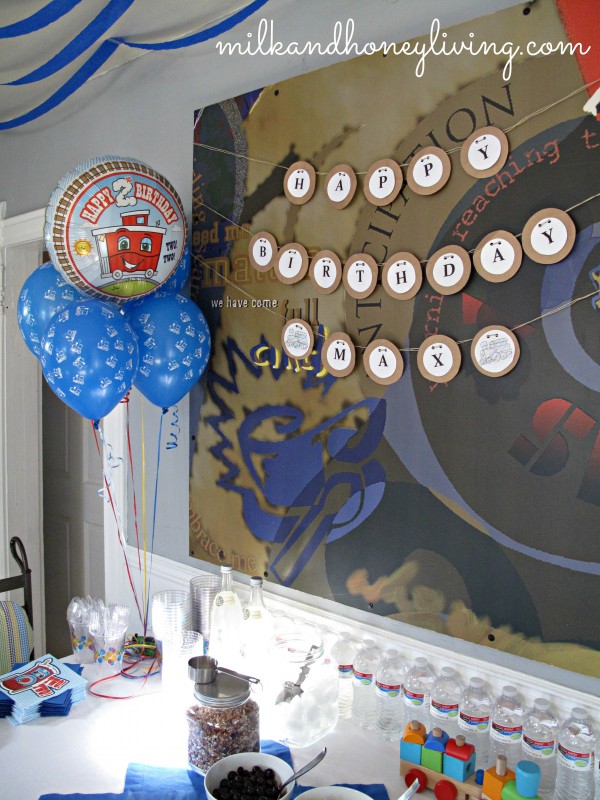 Low or NO cost Activities
Incorporating some structured activities is a good idea at a children's birthday party, to gather and guide their energy. We did an Olympic Ball Toss (Shooting into the basketball hoop), Olypmic Parachute (using this parachute that the boys got for Christmas, and we use all.the.time), and Olympic Coloring (ha, because really they don't care how creative the ideas are, they just want something to do and it was a great activity to calm down after getting all riled up).
Plus, some people take their coloring more seriously than others…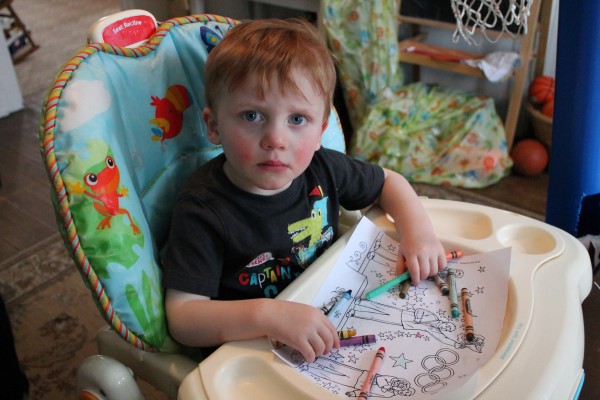 Frugal Favors (or again, skip them)!
A couple years ago, I found gold medals on ridiculous clearance and, assuming I could put them to good use in the future, snatched them up for cents. We had a silly medal ceremony, where each child received his medal and all the adults sang the national anthem. The kids LOVED it. They each went home with a medal (no additional candy) and were really proud of their awards.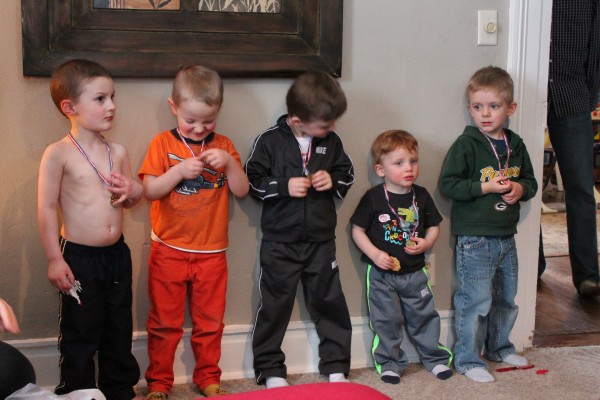 Potluck Style
I'd usually say, in hosting a party where people are most likely bringing a gift, I wouldn't ask people to bring a dish to pass; however, we are lucky in that our families pretty much always ask what they can bring and still want to bring a gift (and then we return the favor).
I don't pretend be some decorating or party planning guru, not in the least, but these are some tips I adhere to, in order to keep our parties within certain boundaries. 
What are your best suggestions to keep cost reasonable for children's birthday parties? 
~ Becca
This post contains affiliate links.
For a list of parties I link-up with, click here!
The following two tabs change content below.
I hope you enjoyed reading Milk & Honey Living! I always appreciate your comments and love to connect with readers. If you don't want to miss a post, be sure to subscribe via email or rss feed; or follow me on Facebook, Twitter, and Pinterest!