I read some phenomenal books this past year and I wanted to revisit some favorites. This is really hard, some had me laughing so hard I was crying (or laughing out loud sitting alone in public, which always looks normal). Others just had me full-fledged crying and they lingered in my mind and heart long after the last word. I read some stunningly written work and captivating stories. If I had to pick 5 today, I've narrowed it down to these: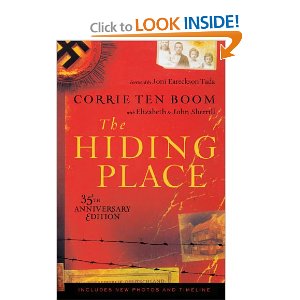 The Hiding Place by Corrie Ten Boom – This book is more than 40 years old and the events took place 30 years before that. Corrie Ten Boom and her family lived in Holland during the Nazi invasion and as Christ-followers were committed to hiding any Jews that sought refuge. Without sharing much about the story, you follow her all the way to an extermination camp in Germany, but the things this woman (and her family) did and the legacy that followed gave me chills and brought me to tears page after page. Many people read this in high school, if you slipped past, this is an MUST read!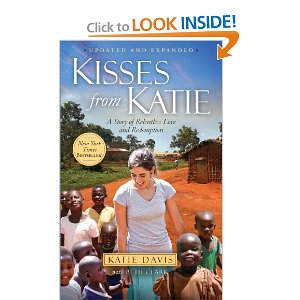 Kisses from Katie by Katie Davis – This is about a young woman (Katie Davis), now 24, who moved to Uganda after graduating from high school and completely left a former life of privilege to pour all of herself into a community of people that has absolutely nothing. In addition to providing food, education, and jobs for sustainable living, she has adopted 13 girls! I have to admit, this is not the most well-written book I've ever read and certain phrases got pretty repetitive; but the raw, heart-breaking, and awesome stories more than make up for it. Plus, I think the repetition was just trying to clearly convey her heart for the Lord and that all that she does his for His glory and not out of her strength. Along with the Hiding Place, this book is convicting in that as Christ-followers we are to place others, and most importantly Christ, before ourselves. They give clear perspective on the privilege of our circumstances and how the vast majority of the world's population experiences life much differently.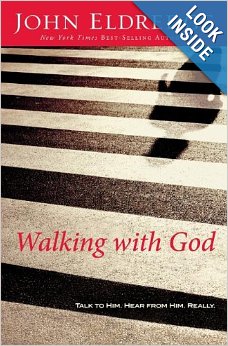 Walking with God by John Eldredge
I read this as part of my daily devotions. The author writes it much like a journal, but the point is focusing on how we are to acknowledge and walk with God on a daily basis in EVERYTHING. The emphasis is how we are to be in deep, rich, DAILY communication with God through prayer. He highlights that throughout our lives and based on our experiences, we've made different "agreements" with God about ourselves, others, or who HE is. He takes his daily experiences and breaks down how he bring them before God and then…LISTEN!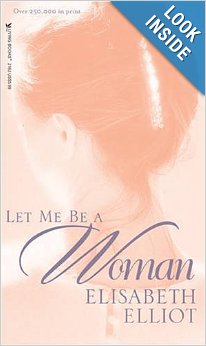 Let Me be a Woman by Elisabeth Elliot
Elisabeth Elliot writes with clear conviction of who we, as women, were created to be according to the Bible. She wrote it as an open love/instructional letter when her daughter was getting married in the 70's. I highlighted words on just about every page as she shared about Biblical womanhood, motherhood, marriage, and homemaking. I loved reading this perspective, because not only was it about these topics, but by a woman who was widowed twice, of a different generation, and just a well-spring of wisdom.
A Tree Grows in Brooklyn by Betty Smith
I didn't devour this book. I read it slowly. A chapter or two each night. And every night it left me falling asleep thinking of what it would have been like to live in this other place and time; and appreciating all that I so easily take for granted. It is a gorgeously written story about a young girl growing up in poverty in Brooklyn before WWI. The book is lovely, she simply recounts stories of mundane daily life – what school was like, what they did on weekends, what they ate (and how her mother worked so hard to earn their money and stretch their food). Smith writes of poverty, despair, loss, and hardships; but also the importance of family and the simple beauty and pleasure in the everyday.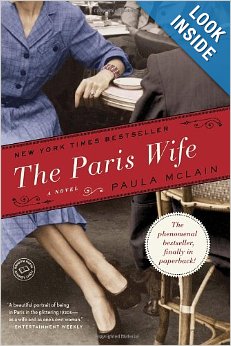 Bonus Pick: The Paris Wife by Paula McLain
I just had to include The Paris Wife. It is a fictional account (but heavily based on true stories, letters, etc.) of Hemingway's marriage to his first wife (of 4), Hadley Richardson and their time together living in Paris. They were young, poor, he was beginning his writing career, and they were loving life among other creatives. It was captivating to read the whole experience from her perspective. I took a class on Hemingway when I was in college. He is far from a shining example of upstanding character; but I am always intrigued by people's lives and how their experiences shape who they become. Love or hate him, he gets people talking and this book does the same.
Given one of my goals for 2014, I'm in the process of creating a reading list. What were your favorite reads from this past year? Or all-time? 
~ Becca
Sharing with:
The following two tabs change content below.
I hope you enjoyed reading Milk & Honey Living! I always appreciate your comments and love to connect with readers. If you don't want to miss a post, be sure to subscribe via email or rss feed; or follow me on Facebook, Twitter, and Pinterest!