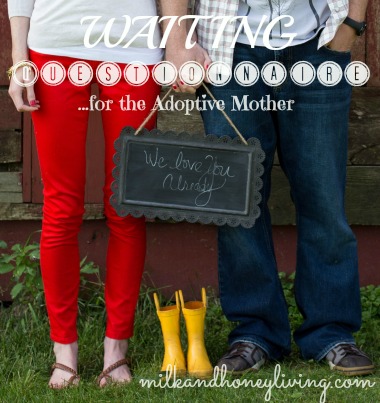 How long have you been waiting? Today is Day 60.
What's been on your mind? Ironically, 60 days is minimal to so many people waiting for their children – biological or adopted. A dear friend of mine has struggled with infertility for years now and just received additional news on the timeline of even possibly conceiving (unfortunately this is one dear friend among numerous who are enduring this heart-breaking hardship). I have not experienced the pain of infertility. There is no way I can address it with empathy. I can feel sadness and hurt for their heartache, but I have not known that pain and cannot even imagine what it must be like; a desire so profound and seemingly attainable, and yet completely out of your control.  I am praying for those going through this (I know that there are many of you who read right here). Everyone endures their given trials. This has not been mine and it makes me very aware that things could be much different, that children are not guaranteed, and that they are indeed a remarkable blessing from the Lord. I am grateful for the gift of my biological children (and grateful that we are choosing to grow our family differently as well).
How do you feel this week? All that to say, I am EAGER…I wrote anxious, but then changed it. I'm not anxious! I am eager.
I am eager to know what is going on in the universal timeline of our family, haha! Eager to have and hold our next baby. Eager to love, love, love this little blessing that has been the desire of our heart for so long now (from before we were married) and will be a gift when he arrives. Never before in life, have I grown, stretched, and changed more as an individual than since having my children. They challenge me to the hilt, but virtually demand that I grow into a more passionate Christ-follower, more virtuous woman, more patient and loving wife and mother.
There will be difficult, draining, demanding days, but that comes with all children and with any changing circumstances.
What are you doing to prepare? Well, first things first, the obvious priority was figuring out how to play DVDs in the van. We don't actually have a media system in there, but Andy changed all that last weekend. He built a pretty ingenious (removable :) TV stand involving shower curtain rods and removing the middle seats! Actually, I completely remember driving cross-country long before cars had media systems installed and my dad had built and rigged up this little TV and movie stand between the two front seats, I thought it was the coolest thing ever.
What have you done with your kids this week? 
We had a surprisingly awesome week, Cal is getting some teeth, so I was up with him from 1-4 one night and he was up last night at midnight and then wide awake this morning at 5am. We've been tired, so sort of slowed down. But I actually kind of enjoy those times because they are little stolen moments. It is dark, the house is quite, we can cuddle, read, light a candle, turn on some music and just enjoy. The other night, he'd lie on my chest in the rocking chair for about 20 minutes and every time I thought he was asleep he'd pop up wide awake with a book request. Finally, we went downstairs, shared a muffin and watched a PBS show about Otters.
Plus, we carved out time for a Max and Mommy date night! It was awesome. We went out to dinner (had real conversations over dinner) and then went to Barnes and Noble to play at the train table, color on the Nooks, and read. He's super cool. I forget that sometimes!
Dreaming about/Looking forward to this week: Receiving the call! How surreal will that moment be? Actually, Andy literally had a dream this week about going to get our baby. I didn't ask his permission to share, so I won't, but it is pretty clear the Lord directs his people and provides perfectly in his timing. Which brings me shockingly close to where I started…
Are you or is someone you know struggling with infertility? How can we love, serve, and pray for those enduring this pain? What are your favorite resources?
~ Becca
The following two tabs change content below.
I hope you enjoyed reading Milk & Honey Living! I always appreciate your comments and love to connect with readers. If you don't want to miss a post, be sure to subscribe via email or rss feed; or follow me on Facebook, Twitter, and Pinterest!