We were blessed to celebrate Calvin's dedication this past Saturday. We've dedicated him to the Lord on our own (and daily), but this was our formal act and announcement that we are committed to raising our child in Christ – teaching him these truths and training him up in righteousness! Our families gathered around for the brief service and then came home to join us in our celebration. It was easy-going and casual; we ate, talked, laughed, and played. It was the perfect acknowledgement of this occasion!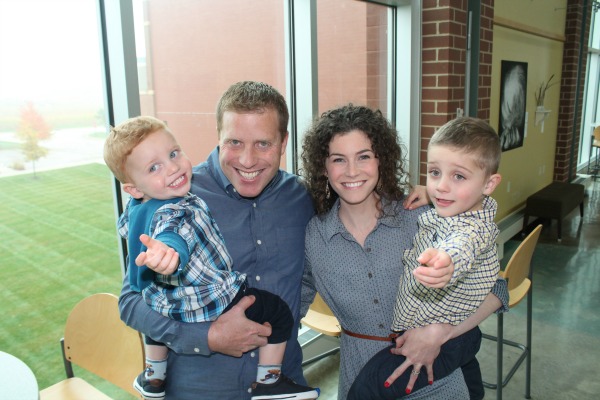 We are so thankful for our happy, healthy, tough, funny, sweet, cuddly boy. He is an added joy to our family! The verse we chose for him on this dedication day was: 
…If you pour yourself out for the hungry
    and satisfy the desire of the afflicted,
then shall your light rise in the darkness
    and your gloom be as the noonday.

 And the Lord will guide you continually
    and satisfy your desire in scorched places
    and make your bones strong;
and you shall be like a watered garden,
    like a spring of water,
    whose waters do not fail.

Isaiah 58:10-11
The blessing we shared with the audience of witnesses reads:
Father, thank you so much for Calvin.

More than anything, by power of your Holy Spirit please reveal yourself to him, that he would humbly accept Jesus as his Savior at an early age. Grant him rich knowledge, understanding, wisdom and depth of insight of who you are. Guide him with your staff and protect him with your rod. Point out any offensive way in him and lead him in the way everlasting.

Help him to understand his true identity as a co-heir with Christ and its significance in every aspect of life. Please shower him with favor and blessing; grant him Godly relationships and influences. Please preserve his purity and if it is your will that he would marry, keep his future wife in your loving care always. Grant him faith that can move mountains, diligence in his work, patience in affliction, and passion for the poor. That he would love mercy, seek justice and walk humbly with you.

We pray that you would grow him into a man who knows you and strives each day to be more like you, that he would love you all of his mind, body, soul, and strength.  You know the desires of our heart for this child, please align them with yours. Grant us, as his parents, wisdom to help foster this character and lead by Godly example.

In all of this we ask for your will to be done and thank you for perfect plan for our lives and Calvin's
~ Becca
The following two tabs change content below.
I hope you enjoyed reading Milk & Honey Living! I always appreciate your comments and love to connect with readers. If you don't want to miss a post, be sure to subscribe via email or rss feed; or follow me on Facebook, Twitter, and Pinterest!