Two weeks have passed since I last updated on our adoption process!
We had one paperwork snafu last week. Our social worker received a document that (whether it was accurate or not) needed an additional document stating that in fact this was not correct. So, we had to backtrack and have an additional letter written to counteract that file. Really, it was very minor and all taken care of!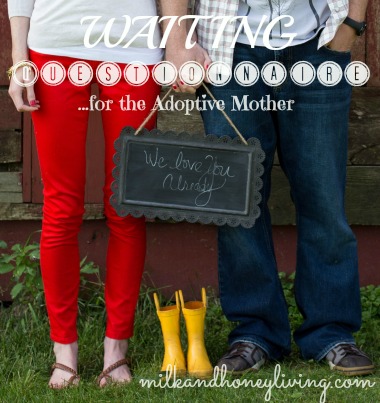 How long have you been waiting? 39 days
How do you feel this week? Preoccupied! Cal is being dedicated at church this weekend and we are hosting our families. I have been planning for our very exciting weekend :)
What's been on your mind? What I will feed the baby! I am still nursing Cal (yes still), for a wide variety of reasons, but one of them is to keep my production which might provide the amazing and rare opportunity to nurse our adopted baby! I could go on and one, which means maybe I'll just make that a separate post ;)
What are your prayers for this baby? He knew who this child was and that he was intended for our family, long before time; surely He will bring the baby to us in his perfect timing! There is a huge part of me that is anxiously awaiting the call to meet this new baby. Who, where, what, when, why? But I pray that I would be patient in  the meantime and enjoy my two boys while pouring into them all my love and preparing them for their younger sibling.
What are you doing to prepare? Haha, I'm starting to think about preparing the van. When we get a call the mother could be due tomorrow and we might need to drive anywhere in the country for a 1-3 week stay. I want the van jam-packed with anything I can think of that we might possibly need!
How are you taking care of yourself this week? I started the Change 3 Challenge and so far so good. I have spent quality time with the Lord every morning, but honestly, I'm really tired this week. Max has been waking up 2 or 3 times a night and needing someone to come in to put him back to sleep (this is very odd), so even if I got in bed early enough, after reading and then calming down to sleep, he woke up around 11 each night and I had to start my own sleep process over. Freaks me out for the infant stage again – Lord knows sleeping through the night will be out the window and it's only been happening with Cal for a few months. I suppose I should get used to it!
What have you done with your kids this week? The usual, but Max and I have been doing this new night time devotional together and it is producing some amazingly deep conversations about God.
Nervous about anything? That we'll get the call and nothing will be "ready"!
Dreaming about/Looking forward to this week: What the baby will look like, what his temperament will be, good sleeper? Lousy sleeper?  Strong-willed or compliant? Who are you little one?
New Baby Items: None. But, I think we'll probably be needing new clothes even if it is another boy – these boys get things dirty :)
Your Turn: 
What is your number one recommendation for those in waiting? 
~ Becca
The following two tabs change content below.
I hope you enjoyed reading Milk & Honey Living! I always appreciate your comments and love to connect with readers. If you don't want to miss a post, be sure to subscribe via email or rss feed; or follow me on Facebook, Twitter, and Pinterest!