Happy Monday and a VERY Happy FALL, ya'll!
As you know, because I recently shared the Winding When & How We Met, Andy and I celebrated our 5th Wedding Anniversary on September 14th!
Unfortunately, the day of, we had to cancel our plans due to sick kids. We hunkered down at home, recreated one of our favorite meals from a local restaurant, and watched part of our wedding video and slide show (thinking the boys would really like seeing us on TV, not the case, it just turned into a wrestling match with background music :). Fortunately, we were able to reschedule and go and the date we originally planned! Yay, for Nana coming to the babysitting rescue!
We definitely love dinner dates and getting to leave the house together at night, but there is a TON to be said for day-time dates and just getting out and about to enjoy the day together. Now, I'd say to enjoy the things we used to do, but we did a couple things that we've never done together! We started out the day with 9-holes of Golf…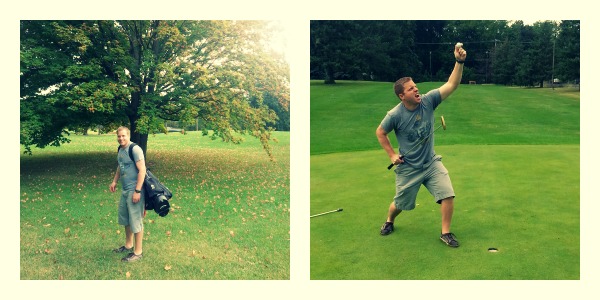 Andy started playing golf more frequently for work in the last couple years. I had golf lessons when I was little but haven't played in 10 years. We went to the driving range once together, but this was…So. Much. Fun! It was a cheap, piddly 3-par course; absolutely perfect for easing back into the game. It was  much colder and more windy than we expected, so my darling husband was generous enough to give me 1/3 of his clothing.
Next, we were off to play "Tourist in our own city!" And went on a Madison Food Explorers guided walking tour!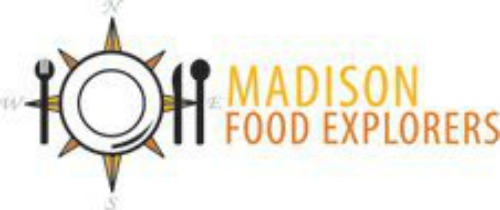 It was fantastic! The whole idea is walking from Lake Monona to Lake Mendota, while learning about the city, landmarks, history, and FOOD along the way. I have lived in Madison for 11 years and I learned a ton (even about places I've walked past 1000 times). In addition to the guide, there were two other couples, oddly enough all celebrating our September anniversaries!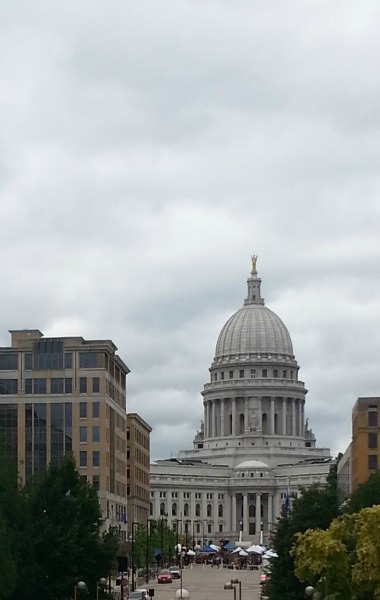 Plus, my favorite part was that the guide pointed out great places to eat and recommended menu items; so we left with an additional list of date locations. As for food we stopped at 1.) The Merchant, for a sandwich and salad, 2.) Frommagination, for cheese samples with crackers and a candied almond, 3.) Ian's pizza for a slice of Mac 'n Cheese Pizza, 4.) Chautara for a Mango Lassi, 5.) State Street Brats for a Brat and Spotted Cow, and ended at 6.) The Memorial Union Terrace for some Babcock ice cream. Here we are at our final destination: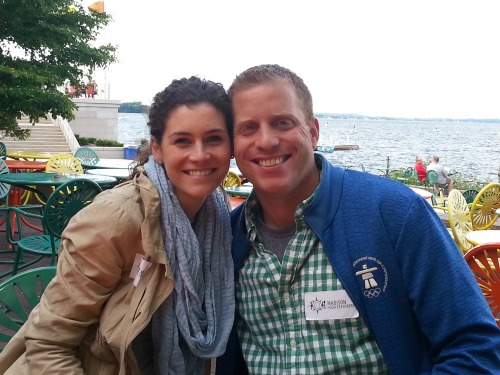 The only negative critique I'd offer might be that it is VERY dairy heavy (even for those with fairly normal dietary needs). We had either cheese, yogurt, or ice cream at every stop apart from State Street Brats where we had a brat and beer, haha! However, when buying tickets online, there is an option to select any food allergies or special diets, so I suppose they do offer alternative menu items! We eat a predominantly real food diet; so the day was very out of the ordinary for us, but it definitely all tasted amazing :) And there was certainly enough food, not just tiny little samples leaving you hungry or needing to eat afterward. As a matter of fact, we didn't even eat dinner. The tour ran from 12:30 to about 4 and then we made the trek back to our car and were home by 5! It was really a wonderful, very fun DAY date with my love! 
As for this week, I have a couple goals on my list, mostly relating to food prep and organization!
God bless your week ~ Becca
Your Turn!
What were the highlights from your weekend? 
What are your goals for this week? 
Sharing this post with: The Better Mom, Cornerstone Confessions, Time-Warp Wife, Growing Home, Raising Arrows, Women Living Well, A Wise Woman Builds Her Home, Walking Redeemed, Serving Joyfully, Raising Mighty Arrows, & Christian Mommy Blogger
The following two tabs change content below.
I hope you enjoyed reading Milk & Honey Living! I always appreciate your comments and love to connect with readers. If you don't want to miss a post, be sure to subscribe via email or rss feed; or follow me on Facebook, Twitter, and Pinterest!