He was asleep but a short time when he awoke angrily wrestling his blankets seeking some sort of consolation from this pain. Four white spots are taunting his gums; poking through ever so slightly, only to sit back and linger a while longer.
I was finishing up every desire on my wish list for the day.
I was interrupted.
But tonight I'll accept it gracefully.
The door creaks open. Disoriented, as he raises his head and through the bars of this teething prison, I see his tears reflect the hall light behind me. A guttural laugh and cry intermingle to express his relief that I'm there and the commiseration that he'd rather he was sleeping, too. I'm here. I will answer your call, my sweet son.
My back aches as I hoist you up.
I am thankful for this weight to carry.
While I am here with you, while I can hold you in my arms, I will sing songs over you.
I will pray over you.
My mind drifts.
No, I will take it captive.
I will close my eyes and tuck this memory into what feels like a neat corner of my mind, but 20 years from now will be dusty and cluttered.
I will praise God for you, for the rich blessing that you're mine and remember,
This interruption is divine.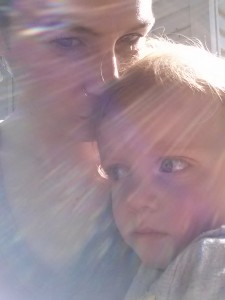 Linking up with:
The following two tabs change content below.
I hope you enjoyed reading Milk & Honey Living! I always appreciate your comments and love to connect with readers. If you don't want to miss a post, be sure to subscribe via email or rss feed; or follow me on Facebook, Twitter, and Pinterest!