Happy August 2nd! Today is Max's 1/2 Birthday, if you don't gather the significance, that means tomorrow he will be closer to FOUR years old than three!
Here is a peek back on our July:
We started off July with a bang at Andrea and Peter's 5th of July Wedding. Not only was it a gorgeous wedding, but it was an amazing 'weekend away' for me (all my boys were there, so I got to see them a ton, but I was in the wedding, so I also had lots of girl time)! I headed to MN on July 3rd with some girlfriends to enjoy a little Bachelorette Party for the Bride! Poor Andrea had to get the centerpiece vases to the florist no later than 11 am, so we stumbled into the car together at 6 am – none of us having slept much – and I cannot remember the last time I laughed so hard for so long. It was a breath of fresh air for the soul. I asked if maybe we could just schedule a drive once a month or so :)
As for our girly day, I didn't get the memo that we were starting off with pedicures, so the lucky gentlemen that was assigned to me got a little more 'stubble' than he bargained for; thankfully they all wear gloves and Amber pretended it wasn't that bad! Then we went into downtown St. Paul for Tapas and Sangria and then for dessert (at what is apparently voted one of the most romantic restaurants in St. Paul – so that was nice).

My boys met me in MN on the 4th & Props to Andy on a "Father of the Year" worthy performance! Not only did he drive up with them alone, he navigated hotel naps and meals, the swimming pool, and being 'on duty' almost the whole weekend by himself as I had other duties to attend. The Rehearsal was on the 4th, followed by a stunning wedding day on July 5th at Camrose Hill Flower Farm in Stillwater, MN.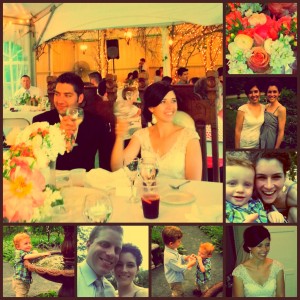 We drove home on the 6th and went directly to watch our neighbors compete in a horse-carriage race about 10 minutes from our house. Who knew? (But my phone was dead at this point and it was a very sticky 600 degrees, so no pics)
We had a little buddy Max's age join us the weekend of July 20th, and it was a riot! We had a jam-packed Saturday and they literally dove in head first! We spent an absolutely gorgeous day at my sister's lake house; out on the boat, floating in the water, swimming, grilling; it was fantastic. All the boys loved every second. We don't get to spend much time with my dad, so it was wonderful to have him there. At one point I walk in the house and Max is curled up in my dad's lap, what a precious sight to behold. After we headed to another friend's house for a party, and by the time they got home they barely were able to paw at the popcorn during their movie before hibernating for the night. There was no argument about heading to bed and Andy said no one even moved from the time he put them each in a bed, read a story, sang a song, and kissed each forehead. We sufficiently wore them out and did not hear a peep until morning.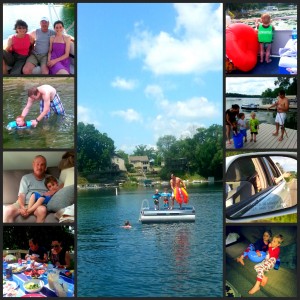 The rest of the month we've been bopping about: zoo, parks, play dates, ball pits, sleeping in boxes, you know, little of this, little of that :) Andy and I got to go to Concert on the Square as guests of Brava Magazine, which was a blast (those editors know how to have a good time) and we enjoyed an unprecedented two (count them TWO) date nights in a row, when some friends invited us to the Mallards game the next night (and our babysitter just so happened to be available and planning to go shopping that weekend :)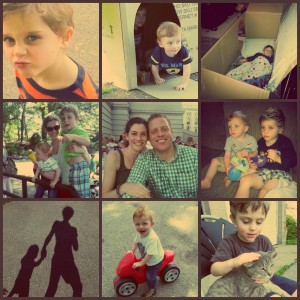 Thanks for taking part in our family and reading our July Highlights!
~ Becca
The following two tabs change content below.
I hope you enjoyed reading Milk & Honey Living! I always appreciate your comments and love to connect with readers. If you don't want to miss a post, be sure to subscribe via email or rss feed; or follow me on Facebook, Twitter, and Pinterest!