When I initially researched recipes for homemade almond butter, I read a ton of different recipes. Some sounded really delicious, but for the most part  they seemed to incorporate extra and unnecessary ingredients. Here's the beauty, this is an absolute weekly staple in my Real Food kitchen and only requires ONE ingredient. ALMONDS!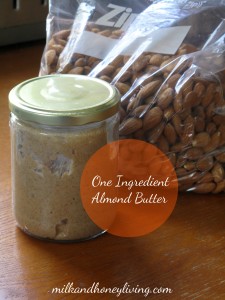 I buy RAW almonds in bulk and am able to make mounds of fresh butter anytime for much cheaper than buying it already prepared. I've put it in and tried it on everything: oatmeal, green smoothies, toast, yogurt, apples, celery, sweet breads, salad dressings, fruit dips, and more. If you have an adequate food processor or powerful blender, this is one recipe you have to try! If not, go get one and then try it :)
I've experimented by adding other nuts, coconut oil (which does offer a nice texture and mild taste), honey, etc. But find it is easier to make a basic almond butter "base" and add any additional flavors on a need basis.
Ingredients:
2-3 cups Raw Almonds (or any amount you desire to make/your food processor can handle)
Directions:
Put almonds in food processor.
Let process for 10-15 minutes, scrapping sides as needed (sometimes it gets thin and then seems to thicken up/get chunky again…just scrape the sides and let it keep going. It will thin out again!)
Stop at desired consistency, refrigerate in air tight container.
Here is a visual play-by-play:
Personal Note: This is a really easy recipe to complete WITH the kids and/or while doing something else. Max loves to measure the almonds and put them into the food processor (as always, be careful to supervise if a child is near sharp objects/blades). We often run this while cleaning up after breakfast and starting a load of laundry; delicious, homemade almond butter is ready and waiting before I'm done with the dishes. Easy enough!