This is one of my GO-TO recipes! I always have the ingredients on hand and I can make it with my eyes closed; it is delicious, filling, and feeds an army (which I'm not sure Andy likes because if I don't freeze half of it or give some away, the two of us eat it for a week)! It is obviously cozy during the winter, but makes for great dinners and lunches with a nice salad during the summer.
And the beauty is that if for some odd reason I don't have an ingredient on hand it is incredibly easy to tailor: substitute, add or subtract. Don't have barley? Skip it. Add potatoes/sweet potatoes, spinach, a meat protein, etc. Oh, oh, oh! And in this season of receiving some crazy CSA veggies, eh, just throw them in!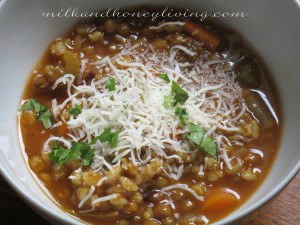 Curry Lentil and Barley Soup
Ingredients:
1 T. butter or coconut oil
1 large onion, chopped
2 cloves garlic, minced
3 carrots, chopped
3 stalks celery, chopped
8 oz. jar crushed tomatoes
1 1/2 cups barley
1 1/2 cups lentils
8 cups chicken stock
4 cups water
salt and pepper (to taste)
2 T. yellow curry powder
mozzerlla or parmesean cheese and/parsely, to garnish (optional)
Directions:
Drop butter in large pot, bring to medium/medium high heat
Add onions, garlic, carrots, celery and a little salt and pepper (about 1 t. of each) cook until tender (5-8 minutes)
Add jar of crushed tomatoes and let cook down (about 3-5 minutes)
While tomatoes cook down, give the lentils a quick rinse and sort.
Add lentils, barley, chicken stock, water and a little salt and pepper and bring to a boil (this takes about 15 minutes) 
Once boiling, cook uncovered 20-30 minutes
Add curry a few minutes before soup is done cooking.
Garnish with cheese, serve warm, and enjoy!
Personal Note: This is a very flexible recipe, it has a few steps, but I usually make it while I am bustling around doing other things in the kitchen or I prep while I am cooking, like by dropping the onions first and then chopping the additional veggies, so I am NEVER just standing there waiting for the next step. 
If you're planning to freeze some, I recommend taking out what you're planning to freeze before adding the curry. Curry thaws a little bitter; so just add it while heating up before serving! Also, this thickens up nicely, almost more of a "stewp;" so upon reheating leftovers, feel free to add some water if you want it a little thinner.
The following two tabs change content below.
I hope you enjoyed reading Milk & Honey Living! I always appreciate your comments and love to connect with readers. If you don't want to miss a post, be sure to subscribe via email or rss feed; or follow me on Facebook, Twitter, and Pinterest!