Oh, I love this dainty, moist little cake.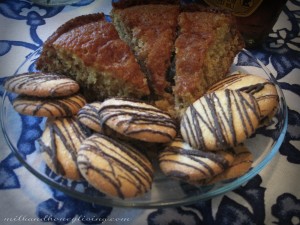 It is sweet, but not overly. And the use of olive oil, honey, and whole wheat give it a rich, rustic flavor; absolutely perfect with (my favorite) a good cup of coffee! Certain foods resonate with certain events, and this feels to me like a wonderful recipe for showers, ladies luncheons, etc. I first made this for my women's Bible study and for a Mother's Day Brunch…
…and then again for our Food Revolution Dinner. 
In the picture below, you'll notice one mini-cake went missing before dinner, but the stray "Triple O" cake then received two-thumbs up from a 10-year old boy; so he was pardoned and I'll take that as the highest compliment. Lovely for the ladies but dessert enough for the boys!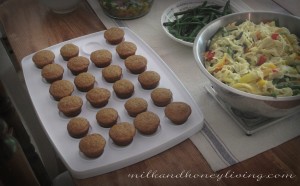 I honestly have no idea where I came across this original recipe, but wherever it came from, I adapted pretty much everything to make it entirely Real Food.
Orange Olive Oil Cake
Ingredients
Butter, for greasing the pan
1 1/4 cups whole wheat flour
3/4 cup honey
2 eggs
1/3 cup extra virgin olive oil
1 teaspoon vanilla extract
Juice and zest of 1 orange (about 1/3 cup juice, 1 tablespoon zest)
1 teaspoon baking powder
1/2 teaspoon baking soda
1/2 teaspoon salt
2 Tablespoons poppy seeds (optional)
Directions
Preheat the oven to 350 degrees F. Grease a 9-inch round cake pan (or mini-muffin pan).
Mix together eggs and honey in a medium bowl with a hand mixer on medium speed until blended.
Drizzle in the olive oil and vanilla and mix until light and smooth.
Add the orange juice and zest and mix well.
Combine the flour, baking powder, baking soda and salt in another medium bowl.
Sift the flour mixture half at a time into the wet ingredients and mix on low just to incorporate.
Pour into the prepared cake pan and bake, 25 to 30 minutes (or 10-12 minutes for mini-cakes; if making minis, fill the molds no more than half-way…they rise).
Let cool 15 minutes.
Yield: (1) 9-inch round cake OR about 36 mini-cakes!
Personal Notes: This cake freezes beautifully! Wrap the cake in wax paper, wrap that in foil and pop it in the freezer (for minis, just throw them in a ziplock). Thaw in the the fridge and you will be pleased to find NO weird taste or texture! Beyond preparing this cake to serve to others, the mini-cakes make for a perfect, quick and easy dessert; just grab a couple as you need them!
Enjoy!
The following two tabs change content below.
I hope you enjoyed reading Milk & Honey Living! I always appreciate your comments and love to connect with readers. If you don't want to miss a post, be sure to subscribe via email or rss feed; or follow me on Facebook, Twitter, and Pinterest!