1.) I am so grateful for such sweet family and friends who call or come help when my love is away. One such lovely friend even brought flowers which have been brightening up my kitchen all week.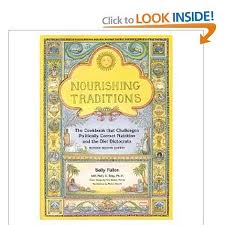 2.) I waited for months to get the book Nourishing Traditions by Sally Fallon from the library and upon taking it home instantly knew this was one I had to buy, read, mark-up, re-read and probably quote far too often. My copy arrived this week and I've been stealing little moments to take it all in.
3.) I am in a Wednesday morning Bible Study through our church called Encounter. We've been studying Genesis this year and just completed our last lesson. We still have a Reflect and Respond week as well as an end-of-the-year Tea, but I am going to miss that group this summer! Not only is it an awesome time for Max to go to the nursery and me to have a little down-time and dig into God's Word, but I have the best group of ladies, EVER. Everyone is consistently dedicated, kind, funny and brings great insight to the group. I really have to go back through this year's notes and compile my thoughts; it has definitely been a time of growth digging so deeply into the first book of the Bible. Things I glossed over previously instead take on great meaning (as is typically the case when studying the Lord's Word).
4.)  Oh, my darling boy! How is it possible, that every day within 10 seconds of being outside he is somehow either soaking wet, dirty or both. Yesterday, I literally got him out of the car and said, "Max we're going right in for dinner so please walk to the house." I turned around to grab my bag and shut the door and Max came running up to me laughing hysterically with his face, hands, shirt and pants splattered with mud. Seriously? Ok, looks like bathtime before dinner!
 5.) The Growing Pains of Motherhood – Lisa-Jo @ The Gypsy Mama. Enjoy!
Have a wonderful weekend!
The following two tabs change content below.
I hope you enjoyed reading Milk & Honey Living! I always appreciate your comments and love to connect with readers. If you don't want to miss a post, be sure to subscribe via email or rss feed; or follow me on Facebook, Twitter, and Pinterest!