For as the soil makes the sprout come up and a garden causes seeds to grow, so the Sovereign LORD will make righteousness and praise spring up before all nations. – Isaiah 61:11
Over the last couple of weeks, Andy (and Max) have worked remarkably hard to prepare our HUGE garden plot. Last year, we had a pathetically small space (only in the sense that I was completely clueless as to how much space certain plants actually require, we tilled it by hand and everything was on top of each other). This year, not the case. My sweetheart "subdued" a 40×40 foot plot and indeed it was with great sweat and toil – till, rake, remove, rake and till once more!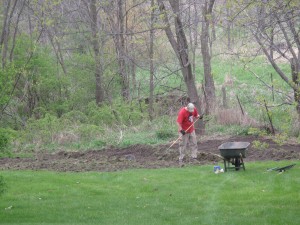 Throughout last week and over this past (gorgeous) WI Spring weekend, we started our first seedlings and sowed all of our varieties of lettuce. Last year I bought seedlings (a.k.a. already green and growing plants), dug a whole, and dropped them in the ground. This year, I did much more garden planning, and it was just me, the dirt, and some minuscule seeds. After carefully reading, re-reading and following all directions precisely, I was still certain that despite my best efforts, this tiny little seed could not possibly become a life-giving, green-growing, fruit-bearing plant. I know that is how it works, but when you hold such a seemingly insignificant speck of dry seed, it is hard to imagine what it has the potential to become…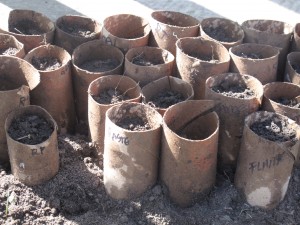 …But alas, my seeds are sprouting; Lord, you've done it again! It is SO good indeed and we are anxiously waiting to literally see (and eat) the first-fruits of our labor.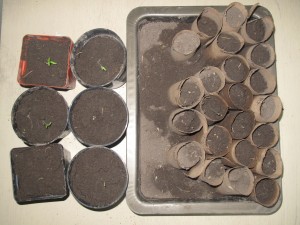 I did drop a fair amount of seeds inside showing Max; with the water spilled and dirt tracked through this house, let's hope they don't sprout on our kitchen floor!
Have you got your seedlings planted? What are you growing this year?
Linking up with:
The following two tabs change content below.
I hope you enjoyed reading Milk & Honey Living! I always appreciate your comments and love to connect with readers. If you don't want to miss a post, be sure to subscribe via email or rss feed; or follow me on Facebook, Twitter, and Pinterest!