What a wonderful (Calvin's first) Easter weekend!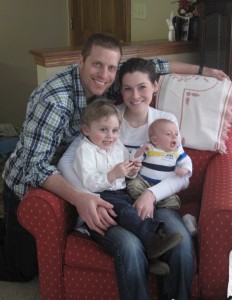 Good Friday: Andy took off of work and we had such a nice time enjoying the day as a family. We went out to coffee at the local coffee shop in Cross Plains, cleaned Andy's office and went out to lunch before heading home to get some work done around the house.
Saturday: Easter Egg Hunt! Our friends host an annual egg hunt; there were about 30 kids (and 300 eggs to find) – so fun!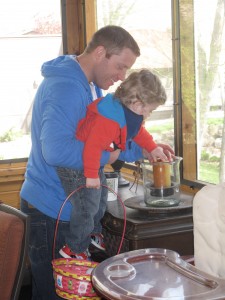 The only downside of the morning was that Max-man accidently tipped over the red easter egg dye onto the table and their blonde wood floor…I (still) feel terrible. Most of it seemed to come off but there was still a light pink spot on the floor; they were very sweet, but Max was caught red-handed.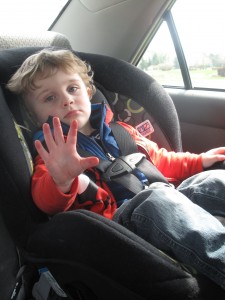 The rest of the day, I cleaned and hung out with Cal inside, while Andy went outside with Max and prepared our HUGE garden plot…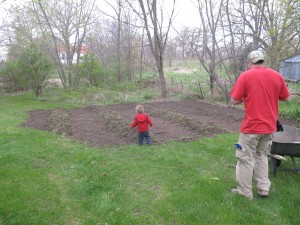 Easter Sunday: Happy Easter! We started our morning with an Easter Egg trail that led Max from his room to his basket. What a darling little bunny…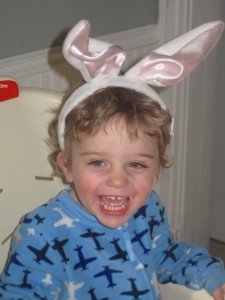 After church in Madison, we went "home" to spend the rest of the day at my Mom's house. We did our annual (adult) easter egg hunt, before simply plopping some easter eggs around the living room floor for the little boys – haha! I was holding Cal, so I basically just walked around behind my sisters to see if they found any of my eggs; I'm pretty sure Angie gave me 5 before I had to sit down and nurse, at which time my mom located the rest for me. That was the best easter egg hunt ever!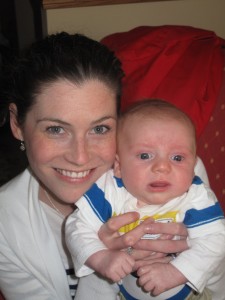 Max and cousin Joey found their eggs, played with their baskets from Nana, hunted for pinecones outside, and created a general mayham about the day! It is definitely more distracting to enjoy holidays with children because one can no longer just hang out and have long (uninterrupted) conversations. However, experiencing the holidays and excitement through my child(ren's) eyes definitely brings an entirely different depth of joy to these days! Look at these two…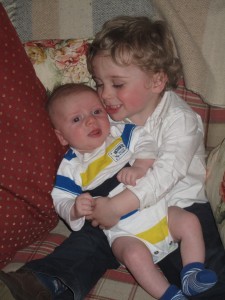 The following two tabs change content below.
I hope you enjoyed reading Milk & Honey Living! I always appreciate your comments and love to connect with readers. If you don't want to miss a post, be sure to subscribe via email or rss feed; or follow me on Facebook, Twitter, and Pinterest!