This week's Project: Simplify Hot Spot was:
PAPER CLUTTER (an area that seems to be perpetually taunting me from virtually every surface area, drawer, box and bag).
I love that our TV sits on a nice, big dresser because it has 12 drawers to stow away Max's toys, games, a changing station, etc.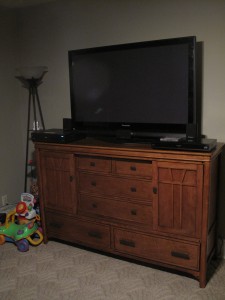 However, it also seems to be my "quick clean" solution; I cram in everything that would otherwise be sitting out (mail, magazines, books, coupons, receipts, chapsticks, chargers, EVERYTHING) and those drawers get cluttered very quickly. Most obnoxiously, they get a little too crowded and items tend get stuck and keep the drawers from opening!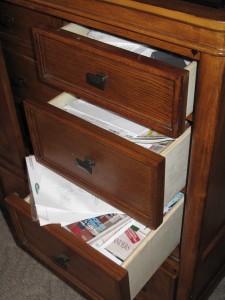 Now, my three drawers each have a specific purpose: 1.) little odds and ends, 2.) magazines and receipts, 3.) coupons!
So, that was my first project this week, which transitioned nicely into organizing my hanging file basket. I'll spare the pics because they would again be quite similar; however, between the drawers and my file basket I filled an entire box with trash…
And it. is. out of here!
The following two tabs change content below.
I hope you enjoyed reading Milk & Honey Living! I always appreciate your comments and love to connect with readers. If you don't want to miss a post, be sure to subscribe via email or rss feed; or follow me on Facebook, Twitter, and Pinterest!